Joseph Rowntree study warns of Scots still in poverty by 2025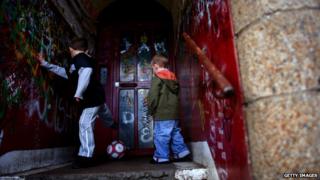 One in seven working-age adults and children could still be living in poverty by the mid-2020s, according to a new study.
The data, from the Joseph Rowntree Foundation, looked at the challenge Scotland would face even with a higher employment rate than now.
It said that even with high employment, lower pay and less working hours could still see people in poverty.
However, The UK government said it was working to end child poverty by 2020.
The foundations' findings were set out in the third and final referendum briefing written by the New Policy Institute (NPI) and published by JRF.
Report co-author Dr Peter Kenway said: "Post-referendum Scotland must avoid replacing a problem of material deprivation with one of inflexible services and a lack of time.
"Families short of cash are often short on time as well.
"Both sides of the independence campaign have to address the long-term challenges faced by struggling families of finding secure work that pays sufficiently."
Working hours
Researchers looked at the impact of an increase in jobs, depending on whether they were full or part-time.
They found that if an 80% employment rate was reached by the creation of only part-time jobs, poverty among working age adults and children could fall from 800,000 (19.4%) to 670,000 (16.2%).
If most of those extra jobs were full-time, the number in poverty would fall further to 600,000 (14.6%).
Jim McCormick, Scotland adviser to JRF, said: "These scenarios highlight the challenges that Scotland must meet if poverty rates are to decrease.
"Much higher employment would cut poverty, but jobs alone will not eliminate it while low pay and inadequate working hours remain so widespread.
"We need to ensure work pays enough to be a route out of poverty.
"Working more hours is only part of the answer. Housing costs, rates of pay and the tax, tax credit and benefit systems are all implicated."
John Dickie, head of Child Poverty Action Group in Scotland, said: "This report makes absolutely clear that increased employment is in itself not enough to end the shocking level of poverty that blights the lives of too many children across Scotland.
"Whatever the outcome of the referendum, action is needed to make work pay and give families access to affordable, flexible childcare. But we also need a new approach to social security and to invest more in universal child benefit and the other supports that families in and out of work all need to give their children a decent start in life."
Unequal society
A Scottish government spokeswoman said the figures supported their view that Scotland needed greater overall control of its finances in order to create a welfare system "better suited" to it's needs.
She said: "This report shows the consequences for Scotland if we remain locked into a Westminster system that has created one of the most unequal societies in the developed world.
"Scotland is one of the wealthiest countries per head in the world, but for too many people in Scotland it does not feel that way - and we need the powers of independence to help build a fairer society, including actions to address low pay and a welfare system better suited to Scotland's needs.
"However, only full control of the country's finances and the welfare system will provide the powers to create a fairer welfare system that will get families into work and contributing to our economy."
The UK government's Department of Work and Pensions (DWP) responded to the report's findings by saying that they did not include the government's continuing efforts to tackle the overall causes of child poverty.
A DWP spokeswoman said: "The UK government is committed to our goal of ending child poverty by 2020. Our strategy outlines plans to tackle the root causes of poverty, including worklessness, low earnings and educational failure.
"This approach is a better reflection of the reality of child poverty in the UK today, and is the only way to achieve lasting change.
"Under this Government there are 300,000 fewer children living in relative income poverty and 100,000 fewer children in workless poor families across the UK."
She added: "We have just seen the largest rise in employment for over 40 years and unemployment is falling. But there is more to do - and we are getting on with that job."