D-Day anniversary: Scots veterans remember landings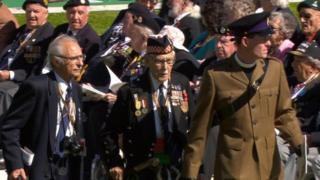 Scotland's D-Day veterans have been sharing their memories of the historic invasion of German-occupied France 70 years ago.
First Minister Alex Salmond attended the main commemoration event in Normandy marking the D-Day landings.
Kenneth Werrett, 92, landed on Sword beach on 6 June 1944 with the 49th Reconnaissance. He went on to survive a mine strike and sniper attack.
He said: "You didn't realise what you were going into."
The landings were the first stage of the invasion of Nazi-occupied Europe.
By the end of D-Day in 1944, the Allies had established a foothold in France - an event that would eventually help bring the war to an end.
Mr Werrett, a great-grandfather, from Kirkintilloch, East Dunbartonshire, said it was difficult watching the commemorations across the Channel as he recalled his fellow soldiers who died.
He said: "I lost a couple of good mates. That's the thing that upsets you.
"I was only a boy and you didn't realise how bad it was. You took things as they came and that was it."
The veteran, originally from Abergavenny in Wales, was 18 when he joined the Army in 1940.
The Reconnaissance Corps gathered vital tactical information in battle for infantry divisions, helping commanders decide how best to defeat the enemy.
Mr Werrett carried messages on motorbikes in Normandy and was at the wheel of an armoured vehicle when one day he struck a mine.
Lucky escape
When he got out of the vehicle, a bullet from a German sniper skimmed his head and he spent six weeks in hospital.
He said: "I had a bit of a setback. They said I was lucky, it (the bullet) just ricocheted off.
"I was in a field hospital for six weeks and then I went back to my regiment. It wasn't bad enough to put me on a plane.
"We didn't have a lot of casualties in our mob, we were very lucky in that respect. We seemed to keep getting away with things."
Another veteran who remembered his role in the historic landings was David Johnston, 89, from Grangemouth, Falkirk.
Mr Johnston was a driver in the Royal Army Service Corps and his unit landed in Normandy to take Cannes a few days after D-Day.
At just 18 years old it was his first combat assignment and he found himself tasked with delivering ammunition, food and fuel.
He said: "We had finished training in Dover. We arrived in the dark and we were just crawling along. It was heavy-going and a real strain on the shoulders and eyes."
Both men have shared their memories with Legion Scotland (formerly Royal British Legion Scotland) as part of its Voices of Veterans campaign.
First Minister Alex Salmond praised the bravery of the soldiers who took part in the D-Day landings.
He said it was an honour to meet the "bravest" of men who played a part in liberating France and helped secure an Allied victory.
Mr Salmond added: "It is important that we take time to recognise the sacrifices made here in Normandy 70 years ago by a generation who gave so much.
"It has been an honour to meet with some of the Scottish servicemen whose courage amid the most harrowing conditions imaginable remains an inspiration to this day.
"D-Day was a decisive moment in a war to maintain and preserve the democratic freedoms we are privileged to enjoy today, and the sacrifices paid by men from many nations made that possible."