Stressed teachers 'at breaking point', EIS union warns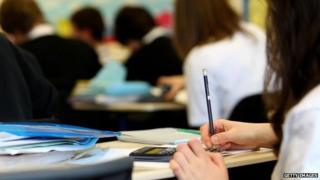 Scotland's teachers "are at breaking point" over increased workloads and the new qualifications, the AGM of their largest union is set to hear.
About 350 EIS members are gathering in Perth for the start of their three-day conference.
Several motions raise the spectre of eventual industrial action if concerns are not addressed.
The government has announced an additional in-service day for primary teachers.
General secretary Larry Flanagan said there was evidence many teachers were struggling to cope.
Teachers have been critical of the level of support provided to implement the Curriculum for Excellence and introduce new qualifications.
Budget cutting
A recent health and wellbeing survey, commissioned by the EIS, suggested severe workload pressures were placing strain on teachers and leading to increased stress and health problems.
Mr Flanagan said: "Teachers are becoming increasingly worn out and frustrated.
"The message they are sending out is that enough is enough - action is needed now to lighten the load on our teachers."
Mr Flanagan added: "The evidence is that many teachers are increasingly approaching breaking point.
"They have been driven there by a combination of factors that are out of their control.
"The budget-cutting austerity agenda has reduced both staffing and resource levels in schools, placing increasing pressure on teachers to achieve more with less."
Training day
The Scottish Government has announced that primary teachers are to get an extra in service training day each year.
This follows discussions between the government, unions and parents' groups.
Education minister Alasdair Allan said: "Teachers have been at the forefront of the successes that have been achieved so far. I recognise their work is delivering lasting improvements that will benefit our young people and economy for years to come.
"The Scottish Government takes support for teachers very seriously and that's why, despite considerable financial constraints, an unprecedented range of support has been put in place, including more than £10 million of additional funding since 2012."
He added: "Following discussions with teaching unions, I am pleased to announce an additional in-service day will be available to primary teachers in 2014/15.
"The Scottish government is committed to working with partners to support teachers and improve the delivery of teaching and learning as much as possible."
The announcement was welcomed by the union.
Mr Flanagan said: "The EIS has been a consistent voice calling for an additional in-service day for the Primary sector for some time, so this announcement will be welcomed by the teachers gathering in Perth for our AGM today and by teaching colleagues across the country."
He added: "In recent months, much of the political focus has been on the Secondary sector and, in particular, the senior phase with the introduction of the new National qualifications.
"However, the EIS has always been very clear that everything in the Primary sector is not 'sorted' with regard to Curriculum for Excellence (CfE) and so it is essential that Primary teachers should have the same right to adequate in-service opportunities and CfE development time as their colleagues in the Secondary sector."
Pension changes
Other issues due to be discussed by the EIS include child poverty, funding for education, combating discrimination, pay and conditions and pension changes.
This year saw the introduction of the new National 4 and 5 qualifications to replace Standard Grades.
Although the EIS supports the changes themselves, it has expressed serious concerns about the pressure and bureaucracy facing teachers.
This year's exams are thought to have gone smoothly and students will receive their results in August.