National Museum of Scotland gets £4.85m lottery grant for new galleries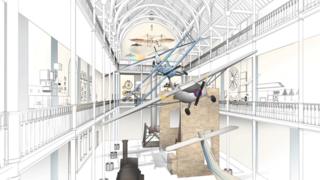 The National Museum of Scotland is to receive a £4.85m lottery grant to help create 10 new galleries.
The galleries - due to open in 2016 - will house collections of Science & Technology and Art & Design.
More than £10m has now been secured for the £14.1m project.
This includes £900,000 from the Scottish government to renew the roof of the west wing of the Victorian building, where some of the new galleries will be located.
A fundraising campaign is under way to raise the remainder from private sources.
Museum bosses said the latest grant would help showcase more than 3,500 objects and "explore the excitement and impact of scientific discovery and invention".
Thrilled visitors
The development is the third stage of an ambitious £80m masterplan to restore the much-loved Edinburgh building to its former glory.
Dr Gordon Rintoul, director of National Museums Scotland, said: "This will significantly enhance what is already a world-class museum for the benefit of visitors from the UK and internationally."
Six Wedgwood plates designed by Sir Eduardo Paolozzi, a flamboyant coat by fashion designer Zandra Rhodes and a state-of-the-art prosthetic i-limb by Scottish firm Touch Bionics will be among the displays.
Colin McLean, head of the Heritage Lottery Fund in Scotland, said: "The recent transformation of the National Museum of Scotland has been an unprecedented success.
"It has thrilled visitors and benefitted Edinburgh and Scotland's tourism economy.
"We are delighted to be able to support the next stage in the transformation of this much-loved museum."