How an 18th Century portrait inspired a new film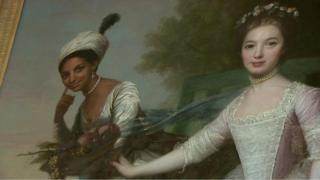 An 18th Century portrait that inspired a new British film is on display at Scone Palace in Perth.
The painting, which dates from 1779, shows two young women dressed in the finest clothes of the age.
However, one is an aristocratic white-skinned girl in a pink dress and the other is a mixed-race girl, who is placed in equal importance to the first, which would have been a rarity for the time.
For a long time, the double portrait at Scone Palace was labelled with only one name - "the Lady Elizabeth Murray".
It was not until as recently as the early 1990s that the identity of Lady Elizabeth's companion was rediscovered.
She was Dido Elizabeth Belle, the illegitimate daughter of British Navy admiral Sir John Lindsay and a female Caribbean slave.
Belle was taken to London by Sir John, who left her to be brought up in the aristocratic surroundings of Kenwood House, by his uncle, the 1st Earl of Mansfield.
Lord Mansfield was an eminent Scottish lawyer who became Lord Chief Justice of England and Wales.
The childless Lord and Lady Mansfield also raised Lady Elizabeth, following the death of her mother.
Belle and Elizabeth are thought to have been raised together as equals at a time when treating a mixed-race child in such a way would have provoked shock and disgust from Lord Mansfield's contemporaries.
The painting, once attributed to Johann Zoffany, was commissioned by Lord Mansfield, who had been born William Murray at Scone in 1705 and educated at Perth Grammar School.
His successors are still the owners of Scone Palace, the family seat of the Mansfields, where the portrait of Dido Belle and Elizabeth is on display.
Screenwriter Misan Sagay saw the picture in an exhibition some years ago and was curious about Belle's life.
"I was amazed to see this black girl gazing out at the viewer," says Sagay.
A new movie - Belle - which features Gugu Mbatha-Raw in the title role and Tom Wilkinson as the 1st Earl of Mansfield - is Sagay's attempt to tell the story of how a woman of colour was treated in Georgian society.
It also suggests that Lord Mansfield's judicial decisions relating to slavery were much affected by having Belle in his home.
Lord Mansfield is said to have played a pivotal role in the abolition of slavery.
In 1772, when Belle was 11, the judge ruled that no slave could be taken from England or Wales under force, saying: "The state of slavery is of such a nature and so odious that nothing can be suffered to support it".
He also presided over the infamous "Zong Massacre" case in which 142 African slaves were hurled from a ship and drowned so that their owners could claim insurance for "damaged cargo".
Lord Mansfield ruled that the slave owners could not claim money and that slaves were not disposable.
The horrific treatment of slaves highlighted by the case strengthened the abolitionist movement, which eventually led to the British slave trade being outlawed in 1807.
Gugu Mbatha-Raw, who plays Belle in the film, says: "Having a child of a slave in your household must have influenced him, even on a subconscious level."
The film's director Amma Asante says: "We should be proud that we had this Lord Chief Justice that chose to take in the child of a slave, to raise her with value.
"Because he made a choice to love a child, we possibly have a different world. That gives me goose bumps."
William Murray, a descendent of the earl and the son of the heir apparent, says the treatment of Dido Belle was "ground-breaking".
"In 1760, this sort of thing just did not happen. The story and the position of having Dido in the house was utterly unique."
However, it did create difficulties in society, he says.
Dido Belle was treated like the rest of the family when they were alone.
"Where it got awkward is when they had guests in," he says.
She was too well-born to belong to the serving classes but too different to be wholly welcome in high society, Mr Murray says.
The portrait on display in Scone is the only representation of Belle known to exist.
She was one of three illegitimate children fathered by Sir John Lindsay, who was commander-in-chief of the British Navy's East Indies Station.
He also briefly served as an MP for Aberdeen.
When Lord Mansfield died, he carefully recorded in his will that Dido was a free woman.
She married John Davinier in 1793 and the couple had three children, including twin sons.
She died in 1804, at the age of 43, and was buried at St George's Field close to what is now Bayswater Road in London.