Poll suggests half of Scots support steep tobacco price rises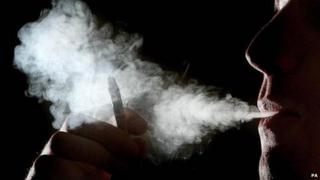 More than half of Scots want tax on tobacco to increase by 5% more than the rate of inflation every year, according to a survey.
But while 53% would support the rise only 18% of current smokers back it.
The findings were welcomed by anti-smoking campaign group ASH Scotland, which commissioned the poll.
Chief executive Sheila Duffy said: "Increasing tobacco taxes is the most effective way to cut tobacco use and save lives."
YouGov questioned 1,064 people, with the results released on World No Tobacco Day.
Just over a fifth (21%) of Scots disagreed with the suggestion taxes on tobacco should rise by 5% more than inflation every year.
The same proportion of ex-smokers were opposed, with 51% of those who have given up supporting the idea.
Government revenue
Among current smokers, 65% were against.
The poll also asked how the UK Government could increase the amount of taxes raised to reduce its borrowings.
More than two thirds (69%) backed increasing the price of cigarettes - the same number who supported a "mansion tax" on properties worth more than £2m.
The only proposal more popular was raising taxes on bank bonuses, which was supported by 74%.
Ms Duffy added: "Countries around the world have successfully increased tobacco taxes, decreased tobacco use and brought in significant new government revenue."
Opponents of further tax increases have said they would expand the black market in tobacco.
Simon Clark, director of the smokers' group Forest, said: "History shows that increasing tobacco duty above inflation fuels illicit trade and costs government money.
"The Treasury loses billions of pounds to illicit traders every year. Further increases in duty will merely encourage more people to take advantage of the huge savings available on the black market.
"Law-abiding consumers are penalised while poor and elderly smokers will be hardest hit."