Fragmented WW1 East Lothian family reunited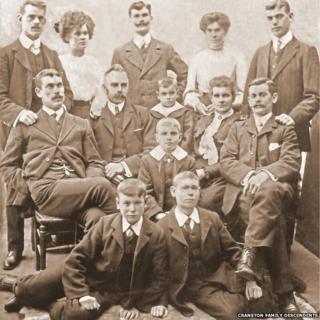 The story of an East Lothian family devastated by World War One is being remembered in Haddington this weekend. A book about the family's story has been published and a plaque is being unveiled in the town.
The story of the Cranstons is a heart-breaking one.
Of 11 children in the family, seven of the boys went off to World War One.
Four died, two were horribly wounded and only one returned unscathed.
Feeling there was no future for them in Scotland, many of the survivors left for Australia.
But this was not a story that was talked about in the wider family.
Stuart Pearson has travelled from Sydney in Australia to remember his family members who went to war.
Looking at a family group picture from 1908, Mr Pearson says: "Within 12 years from that photograph, where you have mother and father and 11 children staring out at the camera, only one person is left in Scotland. Everyone else is dead or departed."
Mr Pearson says: "Subsequent generations fragmented the knowledge of the family, so that by the time I came around as a grandson I knew very, very little and that by the third generation nobody knows anything."
Hooking up via the internet, family members from around the world got in touch and began piecing the story together.
"I found out there were other family members who were trying to pull the threads of this story," says Mr Pearson.
"Pull the threads of this family back together again.
"We used technology and I ended up talking to Canadians and Scots and English and New Zealanders and fellow Australians and we managed to stitch the family together and its descendents and from that we managed to stitch the story and pull the threads together of the story."
A book jointly written by Mr Pearson and Haddington-based amateur historian Bob Mitchell is published this weekend.
Mr Mitchell provided some of the local context about how hard life would have been in the town 100 years ago for families like the Cranstons.
Very ordinary
For him the real central figure of the story is the mother, left devastated by what had happened to her children.
He says: "Lizzie, the mother, had a hard life, a big family, a lot of mouths to feed, very little money.
"In my opinion, the most extraordinary thing about the Cranstons was their ordinariness. A very ordinary family to which extraordinary and awful things happened."
Something like 40 people have come from overseas to meet a similar number of Scottish-based descendants.
"It's just a story about the devastation of a family which suffered such incredible loss," says Christine Leader from Australia.
"But at the end of it, we are all together again."
Sharon Weir, from Canada, adds: "It's a very sad story but I guess it happened to a lot of people in the United Kingdom, probably every family had someone who died in the war - it's just tragic."
This is the first time since the family broke up and departed Haddington in 1920 that all branches of the family have come together.
"You're probably going to think it's schmaltzy and sentimental, but I feel a part of me has come home," says Mr Pearson.
He thinks his family's story has wider resonance.
"I look at them and think this needs to be told often, needs to be told loudly, needs to be told clearly, that war does this to people and we should be reminded of it all the time," he added.