Police Scotland stopped and searched thousands of children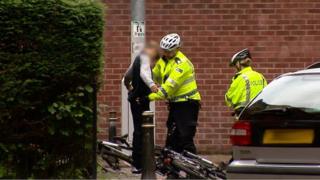 Police Scotland stopped and searched thousands of children between the ages of eight and 12 last year, according to data obtained by BBC Scotland.
Officers carried out 2,912 searches on children in that age group between April and December 2013.
The figures were revealed ahead of the Scottish Police Authority publishing a review of the stop and search tactic.
Police Scotland said the tactic had contributed to a reduction in violence and anti-social behaviour
The force said a total of 640,699 searches were carried out across the 12 months to the end of March.
The figure is three times higher than the 222,315 searches conducted by London's Metropolitan force, which polices a population greater than that of Scotland.
You can explore all the stop and search data using the SEARCHABLE DATABASE developed by BBC Scotland.
The SPA has recommended Police Scotland should review its policy on stop and search. The force has set up a new unit to draw up guidelines and monitor its practices to ensure the tactic is employed in the same way across the country.
The Scottish Police Authority has been reviewing the data since January to assess the effectiveness of the tactic, which allows officers to search people for drugs, alcohol, stolen goods and weapons.
The figures obtained by BBC Scotland, through a Freedom of Information request, showed that about 16% of the searches involving children in the eight to 12 age group yielded positive results.
Force watchdog
Of these, 79% were consensual, where the child searched agreed to be searched and an officer did not require reasonable suspicion.
Among young people, 16-year-olds were most commonly stopped (38,132), followed by 17-year-olds (32,409).
The figures also showed people in Glasgow were more than 10 times as likely to be stopped and searched by police than those in Aberdeen.
There were 3,027 searches per 10,000 people in Glasgow City compared with 297 searches per 10,000 people in Aberdeen.
There appeared to be no targeting of ethnic minorities in police stop and searches, with most involving Caucasian males.
The data, for April to December, also revealed:
A quarter of all 519,213 stop and searches yielded positive results
70% of all searches were consensual
Searches were made for drugs (220,786), alcohol (167,730) and weapons (84,756)
The most searches were conducted in Greater Glasgow (201,558), Ayrshire (82,501) and Lanarkshire (81,584)
The most searches (69,837) were conducted in August 2013
A single officer was responsible for conducting 949 searches
84% of searches were conducted on males
Searches also resulted in the discovery of more unusual items such as wildlife (40) and fireworks (1,252).
Informed consent
The review of stop and search comes in the wake of Home Secretary Theresa May announcing an overhaul of the practice in England and Wales over concerns searches were used too widely and targeted ethnic minorities.
The tactic was most prevalent in the old Strathclyde Police area, but has been extended nationwide following the creation of the new Police Scotland force.
The SPA review said it was difficult to find a rationale for the roll-out of stop and search throughout Scotland.
Authority member Brian Barbour said: "Our primary conclusion is that stop-and-search as a tactic does contribute to a reduction in violence and reducing anti-social behaviour, but the extent of that contribution is unknown.
"We could find no causal link between the reduction in violence and the volume of stop-and-search activity."
He added: "There are questions around proportionality and consistency of approach in the age profile of those searched, particularly those under 24, over 80 and indeed under 10s where it is questionable why children under 10 would be searched on a non-statutory basis."
Scotland's Children's Commissioner Tam Baillie said it was wrong that children and young people were being subjected to stop and search on such a large scale.
He said: "They account for over 30% of all searches in Scotland and the vast majority are non-statutory.
This high incidence is concerning and is discriminatory. I am very disturbed that a substantial number of children aged nine or under are being subjected to stop and search.
"There is no justification for this practice being used on children under eight years old, as they cannot give informed consent and are below the age of criminal responsibility."
'Intelligence-led'
Police Scotland Chief Constable Stephen House said stop and search "has contributed to violence and anti-social behaviour reductions across Scotland".
However, he accepted that "processes and communications can and should be improved".
He added: "We will take all appropriate steps to ensure that stop and search is carried out as part of our engagement with the public, to detect weapons, drugs and alcohol and to deter people from carrying these in the future.
"We will also ensure that it is done in an intelligence-led way with respect for the rights of individuals so that the public have confidence and trust in the policing service that we offer.
"While I am confident that we have gone a considerable way to strengthen our stop and search procedures, the recommendations we have just heard contained in the report provide an opportunity for us to further address concerns and to review, develop and improve our processes and communications even more.
The Scottish government said stop and search was "one important tool police use to prevent and detect crime and protect citizens and communities".
A spokesman added: "The use of stop and search contributes to the fact that crime is at an almost 40 year low, violent crime has fallen by half since 2007, homicides at their lowest rate since records began and crimes of handling an offensive weapon are down by 60 per cent since 2006/07.
"We will continue to make sure the people of Scotland get the best policing possible and today's SPA report is a welcome contribution to this."
Speaking ahead of the publication of the SPA's review, Scottish Liberal Democrat justice spokesperson Alison McInnes MSP said there had been "an explosion" in the number of stop and searches.
"The majority have very little legal basis, are carried out without intelligence or suspicion, and are not properly recorded," she said.
Breakdown by police force and month
Aberdeen City
6,672
April
661
May
980
June
1,034
July
886
August
856
September
589
October
532
November
483
December
651
Aberdeenshire & Moray
3,011
April
247
May
455
June
510
July
366
August
554
September
226
October
259
November
226
December
168
Argyll & W Dunbartonshire
21,475
April
2,198
May
3,063
June
2,649
July
2,538
August
3,128
September
2,336
October
2,042
November
1,940
December
1,581
Ayrshire
82,501
April
7,058
May
12,539
June
13,221
July
9,671
August
8,820
September
8,381
October
8,260
November
8,466
December
6,085
Dumfries & Galloway
2,531
April
244
May
321
June
376
July
268
August
326
September
349
October
209
November
237
December
201
Edinburgh
23,577
April
2,662
May
3,652
June
2,653
July
2,647
August
2,861
September
2,728
October
2,377
November
2,163
December
1,834
Fife
7,414
April
824
May
1,061
June
972
July
770
August
900
September
711
October
617
November
758
December
801
Forth Valley
6,741
April
1,023
May
1,134
June
902
July
679
August
874
September
611
October
427
November
478
December
613
Greater Glasgow
201,558
April
22,443
May
25,789
June
23,407
July
23,450
August
31,769
September
21,801
October
20,331
November
17,714
December
14,854
Highland & Islands
4,656
April
449
May
745
June
985
July
415
August
628
September
463
October
394
November
273
December
304
Lanarkshire
81,584
April
8,187
May
9,259
June
10,904
July
9,496
August
10,012
September
9,506
October
9,035
November
8,258
December
6,927
Renfrewshire & Inverclyde
46,437
April
5,080
May
4,922
June
5,742
July
5,601
August
4,905
September
5,181
October
4,251
November
6,050
December
4,705
Tayside
17,601
April
1,197
May
1,322
June
1,342
July
3,581
August
2,611
September
2,182
October
1,979
November
1,689
December
1,698
The Lothians & Borders
13,455
April
1,413
May
2,227
June
1,949
July
1,578
August
1,593
September
1,372
October
1,404
November
977
December
942