NSPCC Scotland reports surge in child emotional abuse helpline calls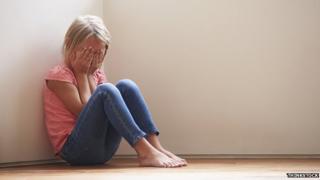 A children's charity has reported a dramatic rise in the number of serious emotional abuse cases referred to police and social workers.
NSPCC Scotland received 320 calls to its helpline describing emotional distress during 2013/14.
Of these 217 cases were so serious, they were referred to the authorities, a 78% increase on the previous year.
The charity said it was vital that agencies were given the resources to deal with the problem.
Emotional abuse can include such things as degrading punishments, exposing a child to distressing events such as substance misuse, persistently ignoring a child or being absent.
NSPCC head of service for Scotland Matt Forde said it was encouraging that more people were becoming aware of the issue.
'Lifelong consequences'
He said: "This isn't about parents who don't buy their children the latest gadgets or trainers.
"This is about parents who consistently deny their children love and affection.
"Abuse is not just physical but emotional, and people need to be alive to whether children's emotional needs are being met. Failure to do so can have lifelong consequences.
"With more people than ever before contacting us about child abuse and neglect, what we really need to do is work together to prevent this abuse happening in the first place."
The Scottish government's Minister for Children and Young People Aileen Campbell said recent legislation passed at Holyrood showed how seriously ministers took the issue of children's welfare.
She said: "Statistics like these are heart-breaking, but they do demonstrate that more of us recognise the immense damage potentially caused by neglect and the steps we are taking to help if we suspect a child is suffering."
The NSPCC said across the UK its helpline was contacted by more than 60,000 children or adults concerned about children in the past year, a rise of 20%.