Scottish parliament backs plastic bag charge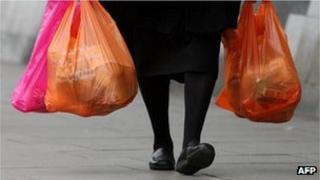 New regulations to introduce a charge for single-use carrier bags have been approved by the Scottish parliament.
MSPs at Holyrood backed the plan to charge shoppers a minimum of 5p for bags.
The regulations, which were approved by 100 votes to 12, will bring in mandatory charging for almost all single-use carrier bags from October.
Money raised through the introduction of the charge will go to good causes.
Environment Secretary Richard Lochhead said before the vote that it was "time to take action" on the issue.
He added: "Scotland uses around 750 million single-use carrier bags a year, each and every year, from supermarkets alone. More per head than anywhere else in these islands.
"It's time to take action to reduce the number of these bags given out.
"So this is part of our wider work to tackle Scotland's litter problem.
"Carrier bags are a highly visible and damaging part of our litter problem in our communities, by our roadsides and in our seas."
Wales became the first part of the UK to introduce a minimum charge for single-use carrier bags in 2011 and a charge was brought in Northern Ireland last year.