Mortgage lenders report rise in first-time buyer loans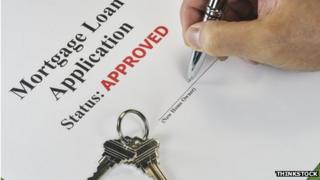 Loans to first-time buyers in Scotland have risen by nearly a third compared with a year ago, according to lenders.
The Council of Mortgage Lenders (CML) said 5,900 new loans were taken out by first-time buyers in Scotland in the first quarter of 2014.
This was 12% down on the fourth quarter of 2013 but 31% up on the first three months of 2013.
Overall lending also saw an expected seasonal dip during the early months of 2014.
But CML said there was a strong upward trend in Scotland on a year-on-year basis.
A total of 12,300 loans were advanced in the first three months, which was 20% fewer than the previous quarter but up 23% on a year ago.
The value of the loans also decreased quarter-on-quarter by 22% to £1.47bn, but the figure was 31% higher than the same period in 2013.
First-time buyers
First-time buyers in Scotland tended to borrow less relative to income compared with the UK overall, due to comparatively lower property prices.
They typically borrowed 2.98 times their income, slightly up from 2.95 in the previous quarter and more than the 2.82 times borrowed in the first quarter of 2013.
This was still considerably less than the 3.42 UK average for the first three months of 2014.
In the first quarter of 2014, home movers in Scotland took out 6,400 new loans, a quarter-on-quarter decrease of 26% but up 16% compared to the first quarter of 2013.
CML Scotland chairwoman Linda Docherty said: "Year-on-year lending shows a strong upward trend in Scotland, which gives grounds for optimism mortgage lending will continue to grow in 2014.
"First-time buyers were a crucial driver throughout 2013, and this is appears to be continuing, up nearly a third year-on-year.
"Affordability for first-time buyers is better than the UK average, suggesting there are still comparatively favourable conditions in the Scottish market for those seeking to own a home."
Industry body Homes for Scotland chief executive Philip Hogg welcomed the figures.
He said: "Today's figures paint an encouraging picture for continued sustainable growth in the Scottish mortgage market.
"The hugely successful Help to Buy (Scotland) scheme - which has generated over 3,000 reservations and sales since launch - has had a significant impact, enabling buyers to realise their home owning aspirations at the same time as supporting vital jobs and boosting the wider economy."