How Scottish colourist JD Fergusson avoided conscription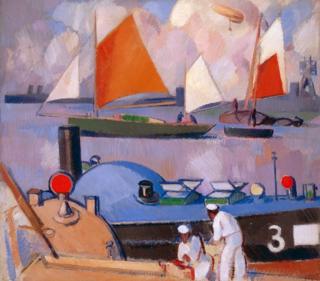 One of Scotland's most celebrated modern artists did everything he could to avoid being conscripted into the Army during World War One. JD Fergusson is famous as one of the Scottish Colourists so it is perhaps little wonder the artist said he disliked the khaki colour of the Army uniform.
More than any other British artist, John Duncan Fergusson contributed to the birth of modern art in Paris before World War One, according to Alice Strang, senior curator at the Scottish National Gallery of Modern Art.
She says Fergusson was a genius who lived life to the full but the war cut across his passion for art and he did everything he could to avoid being conscripted.
He was 40 when WW1 broke out and he was considered to be at the forefront of modern British painting, having spent years mingling with the likes of Matisse and Picasso in the French capital.
At the start of the war, the Edinburgh-born artist returned from France but did not have to join the army because of his age.
However, by the spring of 1918, the upper age limit for enlistment was raised to 51, so, for the first time, Fergusson was eligible for active service.
Alice Strang says the artist was classed as grade A1 fitness at his test "because he was always a fine figure of masculine specimen".
But Ms Strang says: "He really did everything he could to avoid being sent to France.
"Fergusson very definitely did not want to fight in the war and he wrote to Alfred Yockney, who was the secretary of the British War Memorials Committee at the Ministry of Information and suggested a committee of artists should be formed to decide how best to make use of their abilities during the war."
Ms Strang says: "Fergusson came very close to being conscripted into the army and in fact his partner, the dance pioneer Margaret Morris, said he didn't want to join the army because he didn't like the khaki colour of the uniform."
Yockney was fundamental to keeping Fergusson away from the trenches and on behalf of the artist he petitioned a Commodore Sir Douglas Brownrigg in the Admiralty.
The letter said: "This artist was recommended strongly to the Ministry of Information. You saw some of his work at a recent exhibition in Bond Street and were not impressed.
"The exhibition however was not representative however of the kind of work Mr Fergusson can do and it is hoped an opportunity may be given him to produce something worthy of the occasion."
War artist
Ms Strang says: "Fergusson escaped active service by the skin of his teeth and eventually through this petitioning to the Admiralty they sent a telegram which damned with faint praise when it said it had 'no objection' to Fergusson going to Portsmouth to 'gather impressions for painting a picture'."
Fergusson was never an official war artist, he was simply permitted to go to Portsmouth docks to work.
One of the works that came from Fergusson's time in the Hampshire dockyard was a picture entitled Blue Submarine Portsmouth Harbour 1918.
It usually hangs at the Fergusson gallery in Perth.
Alice Strang says it is a "lovely, sunny, cheerful painting of two sailors busy at their work in front of a cobalt-blue vessel, moored to the docks, with sailing boats behind in full sail of red and white and a beautiful summer sky behind.
"But this work was made in the summer of 1918 just as the First World War was about to reach its climax."
"It is a painting infused with bright colour and bright sunshine. There is, perhaps unexpectedly, a feeling of peace and serene industry about it.
Ms Strang adds: "I feel uncomfortable saying this but I think his state of mind when he was in Portsmouth docks was that it was something of a lark.
"The weather was wonderful, he was staying in a nice hotel with good food.
"He writes very cheerful letters back to his partner Margaret Morris in London and it keeps him away from the killing fields of the war and so I think he made the most of it."
While she was researching Blue Submarine Portsmouth Harbour, Ms Strang was put in touch with someone who had "a hitherto unknown sketch book of 83 of the drawings Fergusson had made in Portsmouth Docks".
She says: "We found two studies for Blue Submarine, one shows the vessel from the opposite end and one shows the composition that Ferguson worked up into the painting we see.
"But at the top he's actually labelled it hospital boat. So I wonder if we do have to look at that title again?"
By the time Fergusson submitted the paintings for consideration by the Admiralty, the war had ended and all were returned to him.
None were acquired for official purposes until 1975, 14 years after the artist's death, when one was purchased by the Imperial War Museum.
However, this curious episode ensured that Fergusson survived the war.
The Fergusson Gallery in Perth houses a large collection of the artist's work.
The Scottish Colourist: J.D. Fergusson' is currently beingexhibited at Pallant House Gallery in Chichester, West Sussex, until 19 October