Call for more help for buyers as house building slumps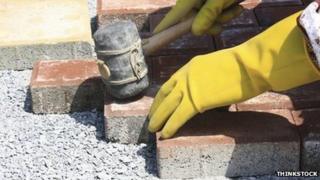 Builders have called for more help to boost the construction industry as the number of homes completed in Scotland fell for the sixth successive year.
Industry body Homes for Scotland (HfS) said it showed the need to extend the shared equity scheme, Help to Buy.
It came as government figures showed more than 7,000 affordable homes were built in the year to March 2014.
Ministers said this put them ahead of their target of providing 30,000 new affordable homes by 2016.
The official statistics for house completions in 2013/14 showed 14,815 new homes had been been built in total, which HfS said was far short of the total of 35,000 the Scottish government was aiming for by 2015, in order to meet demand and impact house price inflation.
Philip Hogg, chief executive of HfS, which represents companies delivering 95% of new homes built for sale as well as a significant proportion of affordable housing, said: "This emphasises the long road we have ahead in ensuring all Scots have access to a warm, sustainable home."
'High priority'
He said the Scottish government's Help to Buy shared equity scheme had generated more than 3,000 reservations and sales since its launch, and had provided builders with the degree of certainty they need to begin increasing production and buyers with the confidence to purchase.
But he warned it must be extended to 2020 to ensure investment is not diverted elsewhere within the UK.
The figures showed in the final quarter of 2013, 3,046 private sector homes were completed, the first time in four years the quarterly figure had been above 3,000.
Housing Minister Margaret Burgess insisted the government was on track to deliver its target of 30,000 affordable homes by the next election in 2016.
She said: "The supply of affordable housing continues to be a high priority for us and we are working with the entire housing sector to increase the supply of affordable homes and deliver vital support for construction and house building companies throughout Scotland.
"And to back this up we are investing over £1.35 billion in affordable housing in the four years to March 2016."
She highlighted the completion of 7,012 affordable homes in the last year, bringing to 19,900 the total delivered by the Scottish government since 2011.
'Lost ground'
The figure in the year to March 2014 was up 17% per cent on the previous 12 months while approvals were up by 43%.
The government announced in May 2014 it was investing a further £40m in the Help to Buy scheme assisting people onto the housing ladder, bringing the total invested since September 2013 to £275m.
Susan Torrance, policy manager at the Scottish Federation of Housing Associations (SFHA) said: "While every effort is being made by the sector to regain lost ground, we are concerned that despite the assertion that the Scottish government housing supply targets are being met, this is not through social rented new build properties for let to those in greatest need in our society.
"The challenge for housing associations is now to find the sites and projects and get building programmes back to previous levels and above, with realistic government subsidy levels and making full use of all resources, capital, equity and guarantees."