E-cigarette rise 'may explain fall in attempts to quit smoking in Scotland'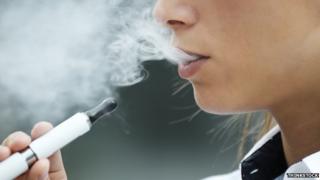 The rise of electronic cigarettes may explain a sharp fall in people seeking NHS help to quit smoking in Scotland, it has been suggested.
An estimated 10% of the adult smoking population made an attempt to quit using NHS services in 2013, although the total was down by 13%.
Statisticians suggest the fall is due to the increasing use of e-cigarettes as an alternative to tobacco.
Women accounted for 57% of all attempts to quit smoking.
More than a third were by people living in "most deprived" areas.
The figures suggest the majority of those who do give up smoking are unable to stay off tobacco in the longer term.
Provisional statistics released by NHS Services Scotland reveal there were 103,431 attempts to stop smoking in 2013, compared to 119,428 the previous year - the first fall in recent years.
The total number of pregnant women trying to stop smoking also fell to 2,918, down from 3,073 the previous year.
In three quarters of cases, smokers used services offered by pharmacies such as nicotine replacement therapy.
Specialist cessation services saw fewer clients, but had the highest success rates.
The highest proportion of quit attempts was in the 45 to 59 age group.