Bag charge backed by Holyrood committee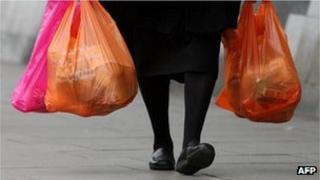 Plans to charge Scottish shoppers for carrier bags have been backed by Holyrood's Environment Committee.
The Scottish government wants to bring in mandatory charging for almost all single-use carrier bags from October.
Shoppers will have to pay a minimum of 5p per bag, with net proceeds to be donated to good causes.
Environment Secretary Richard Lochhead said it would send a clear message that Scotland was serious about tackling litter and reducing waste.
He said: "Single-use bags are a symbol of our throwaway society, with around 750 million given out by supermarkets every year in Scotland alone - that's 12 bags per person for each month of the year and more per head of population than anywhere else across these islands."
The regulations will now be put before the whole chamber at Holyrood for a final vote.
Wales became the first part of the UK to introduce a minimum charge for single-use carrier bags in 2011 and a charge was brought in Northern Ireland last year.