MSPs criticise 'Dickensian' child football contracts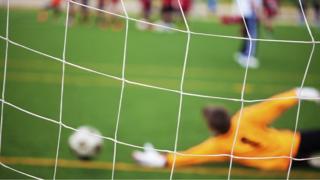 The "Dickensian" practice of holding children on contracts at football clubs against their own or their parent's will has been criticised by MSPs.
Families have gone to court to free their children from professional football club contracts, Holyrood's public petitions committee heard.
Hearts' director of football John Murray said his club lets children go if their family circumstances changed.
But other clubs have different principles, he added.
Mr Murray said: "I would be appalled at a club keeping a player who has moved house. I'm not saying it doesn't happen but we all have different principles.
"I certainly wouldn't keep a player that's moved house, but that's my individual club, I can't speak for Rangers or Celtic."
The Scottish Football Association said clubs must safeguard their investment, particularly when money has been spent in youth development, but said they can intervene if clubs are found to be "abusing their position".
The committee was examining on Tuesday a petition lodged with the parliament by the Real Grassroots organisation, which is campaigning to improve youth football in Scotland.
Willie Smith, the chairman of Glasgow's Hillwood Boys Club and founder of Real Grassroots, said there were two cases pending where parents have been forced to go to court.
Mr Smith said: "A case had almost gone to court until a professional football club withdrew from holding the player on compensation and let him go for nothing.
"We are currently waiting on word from the Legal Aid Board on behalf of another player to take a club to court over refusal to release him from his contract. We have got another one pending.
"In both instances the parents exhausted the opportunities with the clubs first."
Co-campaigner Scott Robertson, a football coach, cited testimony from a law firm, world players' union FIFPro, Children's Commissioner Tam Baillie, the Scottish Child Law Centre and former First Minister Henry McLeish to support their contention that the system is "flawed" and that "retaining players after they have expressed a right to leave after a season is not acceptable and infringes fundamental rights".
He said: "If a 13-year-old player signs a registration form for a boys' club, should he decide halfway through for family reasons he wants to leave or move somewhere else, or it is put upon him for family reasons, he can do so in 28 days if he writes to the Scottish Youth FA.
"Under the same registration form he cannot exit from Airdrieonians, Hearts, Hibs or Celtic. There is no such get-out clause."
'Training costs'
Andrew McKinlay, director of football governance and regulation at the Scottish Football Association, said: "For family reasons, where there have been issues and clubs maybe haven't had the same principles John has talked about, there has been a couple of times when we have been asked to mediate and generally we can find a situation where we can compromise.
"We are allowed to cancel a registration if it comes to it. We don't use that lightly but in scenarios where it is obvious that the clubs are abusing their position then we have the authority to do that.
"That's why often agreement is reached that no compensation is paid or a lesser amount is taken by the clubs, but there is an amount set based on reimbursement of training costs for clubs that have spent a lot of money."
Committee member Chic Brodie, an SNP MSP, said "business speculation" on young people was "almost like a Dickensian novel" while SNP colleague Angus MacDonald said it was "crazy" to let young players sit idle for financial reasons.
Among the proposals put forward by Real Grassroots are:
To remove the current practice of a 15 year old signing a one-year registration form and thereafter being restricted from moving clubs for the following three years
To make it an offence for any club to prevent or prohibit any young player from participating in schools football
To remove any compensation payments until a youth player reaches the age of 16 years and signs a professional contract