EIS says paperwork rise is hampering Scottish teachers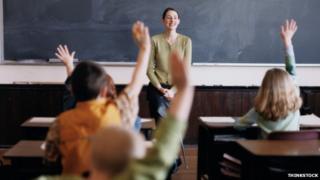 An increasing amount of paperwork is leaving teachers with less time in the classroom, according to Scotland's largest teaching union.
A survey by the Educational Institute for Scotland (EIS) concluded that wellbeing and satisfaction within teaching were at an all-time low and stress levels were "very high".
Just a third of respondents said they would recommend teaching as a career.
The Scottish government said it was working to cut bureaucracy in schools.
Almost 7,000 teachers took part in the survey, which the EIS said painted "a worrying picture of a profession under the cosh".
Among the key findings were:
33% of respondents feel generally satisfied in their working life
33% would recommend teaching as a career
26% felt very well, health-wise, in their job
22% felt they have a very good work/life balance
16% of respondents reported no work-related stress
No respondents said they never felt stressed at work
12% were satisfied with their present workload at present
EIS general secretary Larry Flanagan said unnecessary paperwork and changes to the curriculum were having a "negative impact" on the amount of time available for core classroom teaching and was affecting teachers' wellbeing.
He added: "The survey results confirm the deep-set impact of workload pressures on teachers and lecturers, largely arising out of the changes to the curriculum, and paint a worrying picture of a profession under the cosh.
"Teaching is a noble profession but the fact that almost half of the respondents would be reluctant to recommend it as a career speaks volumes for the mood of teachers and lecturers.
"It's no surprise that the greatest focus of job satisfaction is the work undertaken with pupils and students because teaching is about relationships.
"Overall the statistics provide a substantial body of evidence which should be studied by all involved in Scottish education, and which might hopefully lead to a renewed effort to tackle the issue of excessive workload."
A Scottish government spokesman said it "takes support for teachers very seriously and continues to work with teachers' representatives and local authorities to address any points, including the workload of those at the front line delivering lasting improvements, that will benefit our young people and economy for years to come.
"There is excellent work being done in schools across the country and we are committed to further improving our education system, as shown by the unprecedented package of support and resources provided to implement Curriculum for Excellence.
"We are working with partners, including the EIS, to tackle issues of bureaucracy and unnecessary paperwork in order to free teachers to concentrate on what they do best, the delivery of teaching and learning."
As part of this, Education Scotland and the EIS are holding a series of joint events on tackling bureaucracy, the spokesman added.