Scottish mussel production up by 8% finds survey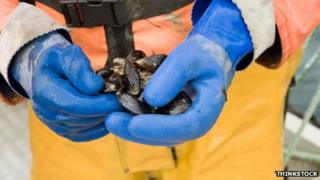 Mussel production rose by 8% in Scotland last year despite some businesses being affected by shellfish toxins, according to a new report.
The Scottish Shellfish Farm Production Survey found more than 6,750 tonnes of mussels were produced in 2013.
The figure was up on the previous year, even though high toxin levels caused some firms to suspend production voluntarily for several months.
The survey of shellfish farmers was carried out by Marine Scotland Science.
Shetland accounted for 4,337 tonnes of mussels, or 64% of Scotland's total.
Mussel and Pacific oysters remained the main species produced in terms of both value and tonnage.
While mussel production increased by 8%, Pacific oyster produced for the table fell by 30% during 2013.
However, the survey found production of Pacific oysters for on-growing "significantly" increased in 2013 as new markets, at home and abroad, were established.
Native oyster production dropped from 317,000 to 260,000 shells in 2013 but the survey found demand for the species continued to be high.
There was an increase in queen scallop production but a fall in the amount of scallop produced.
Shellfish industry employment levels fell by 7% from the previous year, with 333 full, part-time and casual staff being employed during 2013.
The Scottish shellfish farming industry was estimated to be worth £8.9m - up from £8.7m in 2012.