Scottish youth football contracts probed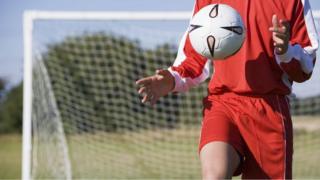 MSPs are to examine claims that contracts given to youth football players in Scotland are unfair and could breach human rights regulations.
The authors of a petition to the Scottish Parliament say players under the age of 16 are not allowed to change club without compensation being paid.
They argue this "transfer market" breaches Scots law and the UN Convention on the Rights of the Child.
The issue will be discussed at the Public Petitions Committee.
Among those scheduled to take part is Scottish Professional Football League chief executive Neil Doncaster.
He will be joined by Andrew McKinlay of the Scottish Football Association, Heart of Midlothian's director of football John Murray, and lawyer Malcolm McGregor.
Registration forms
The Improving Youth Football in Scotland petition was lodged at the parliament four years ago by William Smith and Scott Robertson of the Real Grassroots campaign.
The pair have been involved in boys club football for many years, and have been credited with helping to discover and develop some of the country's best young players.
Their petition states that one-year registration forms given by professional clubs to 15-year-olds are in effect contracts, which restricts the ability of the player to change club for the following three years.
Mr Smith and Mr Robertson have argued that this breaches the Age of Legal Capacity (Scotland) Act 1991 and the UN Convention on the Rights of the Child.
They have also claimed that clubs were sometimes paying more than the stipulated compensation amounts set out by the football authorities to sign young players from another club.
This effectively creates a transfer market in child footballers, they have alleged.
The claim was backed at a previous meeting of the petitions committee by Rangers youth coach Jim Sinclair, who said: "In our experience, the whole thing can turn into a transfer market or end up in a bartering situation if, despite the fact that the level of compensation is actually X, the club with the player demands X plus Y."
He described the practice as "reprehensible".
Mr Smith and Mr Robertson have said the current system was having an "adverse effect" on young players, and have called for it to be abolished.
But they have claimed that there is "no appetite" for the football authorities to address breaches of the rules committed by their member clubs.
Among the proposals they have made are:
To remove the current practice of a 15 year old signing a one-year registration form and thereafter being restricted from moving clubs for the following three years
To make it an offence for any club to prevent or prohibit any young player from participating in schools football
To remove any compensation payments until a youth player reaches the age of 16 years and signs a professional contract
In a letter to the committee ahead of the meeting, Mr Smith and Mr Robertson said: "Every year a significant amount of public money is provided to Scotland's professional clubs and it is given in the spirit and hope that this money will be used to better our national game for youngsters.
"Whilst the unfair issues we highlight continue and potential breaches in Scots and European legislation exist, the Scottish government should seriously consider suspending funding (direct or indirect) to clubs pending an independent review.
"The challenge for Real Grassroots and the Public Petition Committee has always been to change the poor practices of our senior clubs and stand up for young players who have and continue to be mistreated by a system that ensures all control is in the hands of professional football clubs."
'Fair mechanism'
Scotland's Commissioner for Children and Young People has also previously called for compensation payments for young players moving between clubs to be "abolished immediately" on the grounds that they are "overly restrictive and unfair".
The payments are designed to compensate clubs for the money they have invested in training and developing a young player who wishes to move to another club.
Earlier this year, SPFL clubs agreed changes to the compensation scheme following recommendations made by a working party chaired by SFA president Campbell Ogilvie.
The working party concluded that FIFA regulations "clearly permit" football associations to adopt a system for the financial reward of clubs investing in the training and education of young players.
It also said the Scottish FA youth development programme Club Academy Scotland provided "the most suitable vehicle to introduce a uniform, fair and consistent mechanism for the reimbursement of youth training costs."
The Public Petitions Committee can be watched live, or later on demand, at BBC Scotland's Democracy Live website.