Children 'recruited' for Scots crime groups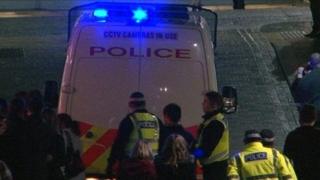 The justice secretary and senior police officers have heard how Scottish children are being recruited into organised crime.
Kenny MacAskill and Chief Constable Sir Stephen House were among delegates at the Divert conference.
Action for Children Scotland talked about its work trying to stop those as young as 12 being used by drug dealers and violent gangs.
Among the speakers was an ex-criminal who was recruited when he was just 13.
The conference took place at the police training college at Tulliallan.
'Serious damage'
A former criminal, known as Peter, who is now a youth worker with the charity Action for Children, said young people were being groomed into a life of crime by drug dealers and gangs.
He told police officers and Mr MacAskill how he was recruited, when he was 13 and living in care, to vandalise the homes of drug addicts who owed his bosses money.
"I was brought up in a family that was involved in a life of crime, so from day one that was the normal life for us," he told BBC Scotland.
"We were into dealing drugs, smashing up houses over drug money, pretty much terrorising the community if they grassed on us or were trying to shut down our operational at all.
"From the age of 13 we were already out doing serious damage to young people, as well as their families round about our area.
"That just led on and as I got older it got worse."
Peter now works with children at risk of being recruited into criminal gangs.
"What I am trying to do at the moment is use my life experience and what I have been through to support young people and give them an insight on different projects and different avenues I took to then move away from the criminal life," he said.
"We share a bit about our life experience, we share a bit about where we have been and where we are now, and we show the young people that there's a journey to be had, and if they want to have it then they can progress just as well as I could."
Director of service development at Action for Children Scotland, Paul Carberry, said: "Children and young people from marginalised communities are seduced by what they see as powerful, glamorous gangsters, people who have cars and all the trappings.
"They try to recruit and groom young people who don't know any better to be involved in illegal activities. They recruit them and groom them for a life of crime."
Chief Constable Sir Stephen House also addressed delegates, who included council officials and education bosses.