Funding of £40m for scheme to help first-time home buyers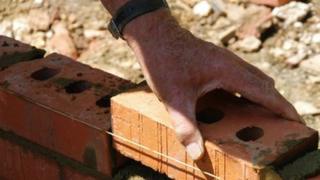 A further £40m of funding is being put towards a scheme to help people onto the housing ladder, the Scottish government has announced.
It brings the total invested since September 2013 to £275m.
The Help to Buy scheme, backed by major mortgage lenders, allows buyers to find a home with only a 5% deposit.
Typically, first-time buyers are otherwise required by lenders to put down at least 10% of the purchase price before being offered a mortgage.
The Scottish government said since it introduced the Help to Buy (Scotland) scheme more than 1,100 people have been helped to buy a new home.
'Second-steppers'
Deputy First Minister Nicola Sturgeon, who made the announcement at the Edinburgh International Conference Centre, said the extra cash would help people get onto the housing ladder for the first time.
"This additional £40m funding will allow more people in Scotland to buy their first home and continue to make it easier for 'second-steppers' and others to move to a new property," she said.
"It is also bringing much needed economic growth to Scotland by supporting our housing industry and creating employment opportunities.
"This is alongside our continued commitment to investing in affordable housing for communities across Scotland.''
The scheme helps people to buy a new-build house from one of almost 200 construction companies, without having to fund all of the purchase price.
While the buyer is required to contribute a 5% deposit, the Scottish government takes an equity stake of up to 20% of the value of the property.
Buyers must take out a repayment mortgage from one of six lenders - Lloyds Banking Group, Barclays, Nationwide, Glasgow Credit Union, Leeds Building Society and Skipton Building Society.
Discussions are taking place with other lenders who have expressed an interest in joining the scheme
The buyers can repay the government's equity stake when they can financially afford to do so.
The announcement was welcomed by delegates at the conference organised by New Homes for Scotland.
Its chairman, Sandy Adam said: "Additional investment, such as that announced today, and longer term support assisting developers with investment planning will help the industry to, quite literally, build on the scheme's initial success and step up production to the levels required to meet housing need across all tenures."
He added: "Many people in Scotland want to own their own home. Raising aspiration and confidence in this way can only be achieved through initiatives such as this."