Conservationists call for more national parks to be created in Scotland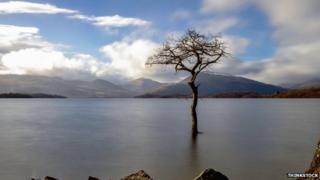 Conservation charities have renewed their call for seven new national parks to be established in Scotland.
The Scottish Campaign for National Parks (SCNP) and Association for the Protection of Rural Scotland (APRS) say the landscape needs more protection.
Scotland currently has two national parks - Cairngorm and Loch Lomond and The Trossachs.
The Scottish government said there was no compelling business case for setting up new parks.
The charities made the call on the eve of a two-day conference in Perth celebrating the work of John Muir.
'Unfinished business'
The Scots-born naturalist, who died 100 years ago, is credited as being the father of America's national parks.
SCNP chairman Ross Anderson said: "We are anxious to get over the message that there is unfinished business in Scotland.
"Along with APRS, we have prepared a well-argued strategy for the establishment of seven more national parks to join the two existing national parks covering the Cairngorms and Loch Lomond and The Trossachs."
Charles Millar, chairman of APRS, said: ''As a nation we are currently near the bottom of the world league in terms of our number of national parks.
"We believe it would be a fitting tribute to the legacy of John Muir if the Scottish government set the wheels in motion to create some new national parks to protect and promote more of Scotland's magnificent landscapes and help regenerate some of the more economically fragile parts of rural Scotland.''
The groups claimed the Scottish government had rebuffed their calls, despite a 2011 SNP manifesto promise to work with charities "to explore the creation of new national parks".
The Scottish government said it recognised the importance of national parks to conservation, tourism and the wider economy - and had invested heavily in the existing parks.
No business case
But a spokesman added: "Their report does not make a compelling business case to establish new national parks, nor does it provide robust evidence of broad-based community and local authority support for such proposals.
"The Scottish government's priority, especially in the current economic climate, is to focus support on Scotland's existing national parks and the contribution they are making to meet local needs and national objectives."
The charities argue Ben Nevis, Glen Coe and Black Mount should become a national park along with a coastal and marine national park, centred around Mull.
A report published last year suggested Galloway, Glen Affric, the island of Harris and Wester Ross should also join them.
They also claim the Cheviots should be turned into a national park as an extension to the Northumberland National Park.