Seven billionaires on Rich List in Scotland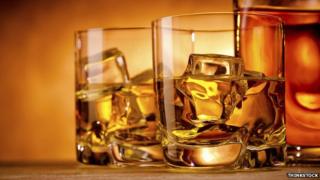 Scotland has seven billionaires living in the country or with substantial business interests, according to the 2014 Sunday Times Rich List.
The number of billionaires recorded in the list has risen north of the border, from six last year.
The Grant-Gordon whisky family tops the Scottish element of the list with a fortune of £1.9bn.
There are now 104 billionaires based in the UK with a combined wealth of more than £301bn, the list says.
The Grant-Gordon Banffshire distilling family have ousted Mahdi-Al Tajir from the top spot in Scotland.
Al-Tajir, whose interests include a development of luxury homes at Gleneagles, is worth £1.67bn, according to the list.
Sir Brian Souter and Ann Gloag, the siblings who founded the Stagecoach transport empire, have become members of the billionaire club for the first time.
They share a fortune of £1bn - an increase of £270m on last year.
Other Scots on the super-rich list are Sir Ian Wood and family whose £1.32bn fortune comes from oil services and fishing, and the Thomson family, owners of publisher DC Thomson, who are worth £1.2bn.
Former Harrods owner Mohamed Al-Fayed, who owns an estate in the Highlands, is estimated to be worth £1.3bn, while Jim McColl, of engineering business Clyde Blowers has an estimated fortune of £1bn.
The study found that Britain has more billionaires per head of population than any other country, while London's total of 72 sterling billionaires is more than any other city in the world.
Indian-born brothers Sri and Gopi Hinduja top the list of the UK's wealthiest billionaires with a fortune of £11.9bn.
Overall Top 25
Sri and Gopi Hinduja, £11.9bn, up £1.3bn
Alisher Usmanov, £10.65bn, down £2.65bn
Lakshmi Mittal and family, £10.25bn, up £250m
Len Blavatnik, £10bn, down £1bn
Ernesto and Kirsty Bertarelli, £9.75bn, up £2.35bn
John Fredriksen and family, £9.25bn, up £450m
David and Simon Reuben, £9bn, up £719m
Kirsten and Jorn Rausing, £8.8bn, up £3.69bn
Roman Abramovich, £8.52bn, down £780m
The Duke of Westminster, £8.5bn, up £700m
Galen, Hilary and George Weston and family, £7.3bn, up £650m
Charlene de Carvalho-Heineken and Michel de Carvalho, £6.36bn, down £635m
Mohamed Bin Issa Al Jaber and family, £6.16bn, up £1.65bn
Carrie and Francois Perrodo and family, £6.14bn, new
German Khan, £6.08bn, new
Sir David and Sir Frederick Barclay, £6bn, up £3.65bn
Hans Rausing and family £5.9bn, up £1.18bn
Nicky Oppenheimer and family, £4.57bn, up £785m
Earl Cadogan and family, £4.2bn, up £525m
Joseph Lau and family, £4.03bn, down £570m
Sir Philip and Lady Green £3.88bn, no change
Denis O'Brien, £3.85bn, up £486m
Mike Ashley, £3.75bn, up £1.45bn
Sir Richard Branson and family, £3.6bn, up £86m
Idan Ofer, £3.43bn, new