Scottish theatre awards shortlists unveiled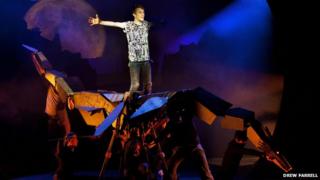 The shortlists have been unveiled for one of Scotland's most prestigious theatre awards.
The Critics' Awards for Theatre in Scotland (Cats) aim to highlight the country's best stage productions.
This year's awards featured a strong emphasis on youth theatre, with two productions aimed at children taking a total of eight nominations.
In total, the shortlist features contributions from 32 different companies and producers.
Judges considered 190 separate productions, 39 of which were written specially for children.
They included the National Theatre of Scotland's production of Dragon, and Huff, which was created by Catherine Wheels Theatre Company.
The two shows received eight nominations across six categories, including the best production award.
Five shows received three or more nominations, with Dominic Hill's production Crime and Punishment receiving six.
This year's emphasis on youth was also highlighted by a special Cats Whiskers commendation for the Imaginate Festival, which aims to introduce performing arts to young people across Scotland.
Cats co-convenorJoyce McMillan said it was a "very worthy" winner.
"Engaging young people with theatre is the driving force of Imaginate, and what an amazing job they have been doing over the last 25 years," she said.
The National Theatre of Scotland also received nominations for Let the Right One In and The Beautiful Cosmos of Ivor Cutler, and has now received a total of 83 separate Cats nominations.
Cats co-convenor Mark Fisher said: "Scotland continues to be a place where theatrical creativity flourishes. The National Theatre of Scotland has once again produced and co-produced acclaimed pieces."
The awards ceremony will be held at Glasgow's Citizens Theatre on 8 June.