Active Travel campaign urges people to ditch car for short journeys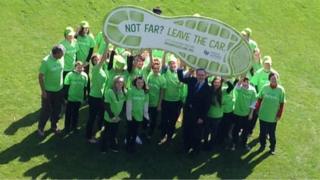 The benefits of walking or cycling short distances, rather than driving, are being emphasised in a bid get more of people out of cars.
The Scottish government wants to encourage people to think about alternative methods of travel for journeys of under two miles.
The Active Travel initiative highlights how such a change can improve health, wealth and reduce carbon emissions.
The motto for the campaign is: "Not far? Leave the car."
In Scotland a third of car journeys are under two miles, but they create more pollution per mile because vehicles use more fuel when the engine is cold.
As part of the second phase of its Active Travel Campaign, the Scottish government has confirmed £250,000 of further funding for local authorities to help people to find alternative ways of travelling.
'Too busy'
Parents are also being encouraged to leave the car at home for the school run. This follows international research which suggests children who walk or cycle to school have improved concentration, cognitive function and mood.
An app which can be downloaded to monitor distance travelled, calories burned, CO2 emissions saved and improvements in mood is also being promoted.
Minister for Environment and Climate Change Paul Wheelhouse said: "Many of us believe we're too busy to leave the car at home when travelling short distances.
"But when you're having a busy or stressful day, often nothing is more relaxing than a 10 minute walk to clear your head - and cycling can greatly enhance physical fitness.
"By taking a short walk or cycling to and from work, the local shop or school, Scots are making a conscious, positive difference to their health, their mood and their environment."
WWF Scotland director Lang Banks said: "It's good to see government support for measures aimed at encouraging more Scots to leave the car at home in favour of walking and cycling.
"If Scotland is to meet its climate change targets then we seriously need to curb pollution from the transport sector, where emissions are the same now as they were in 1990.
"However, if ministers want to ensure delivery of the multiple benefits of improved air quality, healthier citizens, and lower emissions then now is the time to move beyond pilot projects and instead begin a nationwide roll-out of much larger initiatives."