Scotland 'set for tourism boom'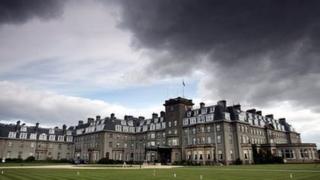 Scotland is in line for a tourism boom, with the number of overseas visitors rising faster than the UK average, according to a report.
The Barclays study predicted spending by visitors from overseas will rise by 40% by 2017.
Tourists from the US are expected to remain the biggest spenders, ahead of those from Germany and France.
By 2017, Scotland is predicted to earn a total of £2.3bn a year from overseas tourism.
The study predicted the average rise across the UK would be 34% over the same period.
It said this year's programme of global events in Scotland, including the Commonwealth Games and Ryder Cup, would be bolstered by a rapid growth in spending among tourists from emerging economies and loosening visa restrictions.
But the report also highlighted the "rich pipeline of innovation and development" in Scotland's tourism sector, which it said would contribute to the industry's long-term growth and appeal to overseas visitors.
It pointed to Dundee's Waterfront regeneration and the imminent opening of the V&A Museum of Design as examples, as well as the attempt to secure for the Speyside whisky industry the same iconic status as the Champagne region in France.
Ally Scott, managing director of Barclays Corporate Banking Scotland, said: "There is no doubt that 2014 will provide an unprecedented boost for tourism in Scotland but it is welcome news that the afterglow will continue for the sector in the longer term.
"That is not to say the industry can rest on its laurels - it is key that this year is used as a showcase of what Scotland can offer with a view to encouraging visitors back and that is why legacy has been a core theme.
"Businesses putting in the time and effort to understand their client demographic and to talk to their audience through whatever channels they use, be it social media or more traditional, will carve out an advantage that will enable them to offer something more tailored for each nationality that visits our shores."
Retail hubs
The sectors that will benefit extensively from this rise in tourist spending are "undoubtedly the retail, leisure and hospitality sectors", the report said, with all expected to boom.
The Scottish retail sector is set to generate £592m from overseas tourists in 2017, an increase of almost 40% from 2013, it predicted.
Home retail is expected to see the largest percentage increase at 46% to £59m, with fashion close behind (up 41% to £337m) reflecting the ongoing development of Scotland's core retail hubs from Glasgow's Style Mile to Aberdeen's Union Square.
Spending on hotels, eating out and attractions will rise by 41% to £1.4bn in 2017, the report said.
Overseas visitors are set to spend £396m on eating out by 2017 - up by 42% - with spend on leisure attractions such as Scotland's golf courses increasing by 46% to £119m by 2017 and hotel accommodation attracting £897m by 2017, up by 40% on 2013.
Tourism Minister Fergus Ewing said the report confirmed Scotland was a "world-leading destination" for tourists.
He added: "The tourism sector is of vital importance to the Scottish economy providing employment to 185,900 and bringing significant economic growth for the country.
"Homecoming 2014 will also see Scotland extend a warm welcome to the world to join our celebrations. The Commonwealth Games and Ryder Cup will also ensure the country takes centre stage in global terms, opening the door to thousands of visitors to the country."