The weather forecast that changed D-Day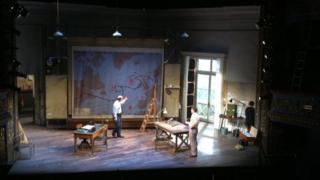 It has been called the most important weather forecast of all-time. In June 1944 thousands of Allied troops would land at five sites across France in the largest amphibious invasion ever.
The ambitious plan, entitled Operation Overlord, would see over 160,000 troops being deployed in what would prove to be one of the decisive actions of the conflict.
Despite months of meticulous planning, there was one aspect that military commanders could not fully legislate for and which would play a crucial part in deciding whether the massive invasion would succeed.
The weather.
Due to the size and logistics of the operation the invasion could only be launched on certain days, each of these days providing a small window of opportunity to launch the massive mobilisation of Allied forces.
A team of meteorologists would advise Operation Overlord's overall commander, Gen Eisenhower, on when would be the correct time to launch the invasion and help decide the fates of thousands of soldiers' lives.
Forgotten hero
Now, a new play running at the Royal Lyceum Theatre the aims to tell the story of Scottish meteorologist James Stagg's role in the historic invasion.
Pressure tells the true-life story of Scottish meteorologist James Stagg who had to advise Gen Eisenhower on when conditions would be suitable to launch the invasion.
Group Captain Stagg helped persuade the operation leaders to delay the launch of the operation by a week to allow the weather to improve.
He did this despite being put under pressure from senior Allied military figures, who felt that any delay could impact on an element of surprise which was seen as being essential to the operation's success.
The decision to delay proved to be the correct one and one which saved thousands of soldiers' lives.
'A complex character'
The play has been written, and stars, David Haig. The actor has has previous experience in writing for the stage when he wrote and starred in the play My Boy Jack, which featured Harry Potter actor Daniel Radcliffe.
The versatile actor said writing the story had taught him how to script, and play a complex character.
He said: "I've learned that slow burning characters are the most interesting.
"He (Stagg) had a superficial veneer of reserve and seriousness but underneath he had an integrity and honesty which hopefully evolves through the play."
Performing in front of a Scottish crowd has presented a unique challenge for the actor, which he did not fully realised before he made the decision to star in the play.
He joked: "I'm speaking in an Edinburgh accent on stage in front of hundreds of people... no pressure there I suppose."
The production is directed by Lyceum Associate Artist John Dove and is set to run at the Royal Lyceum Theatre from 1 May to 24 May before it moves for a residency at the Chichester Festival.