Black grouse 'thriving' due to woodland restoration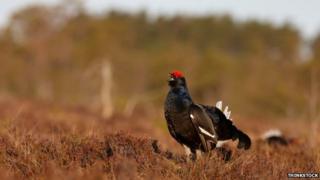 The rare black grouse is now thriving in parts of the Trossachs, according to conservationists.
Woodland Trust Scotland says the number of male black grouse recorded on its Glen Finglas estate has risen sharply.
The success is credited to a project to restore woodland in an area the size of Glasgow, known as the Great Trossachs Forest.
Experts believe that the figures are a good indicator of the woodland's overall health.
Black grouse numbers rose by 50 per cent between 2009 and 2013. Competition on the two existing leks, where the male birds display, has led them to establish a third.
Estate ranger, Euan Hills, said: "Black grouse are magnificent birds that create a great spectacle every spring when the males gather to breed. We're half way through this year's count on the estate but so far the numbers recorded are promising.
"Much of the estate was a huge sheep farm just 20 years ago. Since then we have worked to reduce grazing and establish new woodland through planting and natural regeneration."
He added: "Our long term vision is to establish wood pasture that combines open ground suitable for light grazing with scattered trees and woods."
Mosaic of woodland
Doug Shapley of RSPB Scotland said: "The black grouse is an iconic species, often found in our wildest places.
"But it is also a very good indicator of how our woodlands are doing and how moorland habitats are performing too."
Glen Finglas forms part of a "landscape scale" native woodland restoration project covering 16,500 hectares in the heart of Loch Lomond and the Trossachs National Park.
It links the Glen Finglas estate, owned by the Woodland Trust Scotland, to Loch Katrine, which is owned by Forestry Commission Scotland, and RSPB Scotland's Inversnaid nature reserve.
Sue Morris, project manager for the Great Trossachs Forest, said: "Lots of people imagine a forest as a blanket of trees but here there is a mosaic of native woodland, lochs, moors and wetland.
"This benefits the range of wildlife that make a home here, including black grouse, otters, red squirrels and golden eagles.
"The partners have a shared vision and work together on projects.
"These include improving habitats to increase biodiversity and also enhancing the experience for visitors with projects such as The Great Trossachs path, a new long distance route that will connect the West Highland and Rob Roy Ways which opens next year."