Why were bereaved parents denied baby ashes?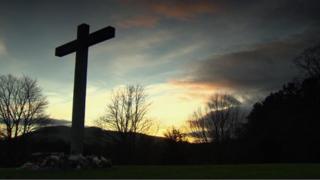 A report into the baby ashes scandal at Mortonhall crematorium in Edinburgh has been published by the city council.
Former Lord Advocate Dame Elish Angiolini carried out the investigation into the cremation of babies at the council-run crematorium over a period of 40 years.
Why was the report needed?
In December 2012 bereavement charity Sands Lothian revealed that the cremated ashes of stillborn babies or infants who had died within days of birth had been buried without parents' knowledge at Mortonhall. This had happened for more than four decades, until a change of management the previous year, and involved hundreds of babies.
The charity discovered that Edinburgh's privately-run crematoriums - Seafield and Warriston - both gave ashes to parents no matter how tiny the child.
But the council-run Mortonhall had always told grieving parents there would be nothing to scatter after the cremation of their babies.
Sands (Stillbirth and neonatal death society) discovered that, despite telling parents there were no ashes, the remains of cremated babies were being secretly buried in the crematorium's garden of remembrance. The practice could have been going on since the facility opened in 1967 until 2011.
Why would staff lie to bereaved parents about the existence of babies ashes?
When the scandal emerged hundreds of parents whose infants had been cremated at Mortonhall demanded to know why this had happened.
The original reason given by the council was that the crematorium had lacked the necessary equipment to return ashes to families from babies which were born before term or were just days old.
However, it quickly emerged that when new management had taken over Mortonhall in May 2011 they had begun to carry out such cremations at the end of the working day when the cremators were cooling down, in an effort to recover more ashes.
It was also claimed by experts that Mortonhall had received extensive upgrades in 2004 to allow the cremators to be more easily controlled and that methods of doing this had been available for at least 20 years.
One former employee was said to have told a grieving mother that the Mortonhall policy had been a result of "laziness and a bad attitude".
Are there ashes available after the cremation of a baby or not?
When Sands Lothians investigated policies and procedures for baby cremations they found Seafield in Edinburgh had been giving ashes to parents for more than 17 years.
However, what is meant by the term "ashes" is not defined in any regulations.
An internal statement provided to the inquiry by the man who ran the Mortonhall crematorium said that because babies bones are soft, it could not be guaranteed that what was left in the cremator after the process was the actual "cremated remains" of the child, and not coffin ash.
He said he was just following guidance from the Federation of Burial and Cremation Authorities (FBCA).
FBCA guidelines say that parents should be warned that remains could not be guaranteed to be that of their child.
Tim Morris from the Institute of Cemetery and Crematorium Management, told the BBC: "The Institute's position is that there is no difference between ashes and cremated remains … whatever is left after the last flame has ceased is ash and that should be given to the parents."
Are other councils doing the same as Edinburgh?
As well as Dame Elish Angiolini's inquiry into the specific Mortonhall cases, a separate Infant Cremation Commission has been established as a national response to the situation.
The commission, chaired by former high court judge Lord Bonomy, which is expected to report in June, has been thoroughly examining the policies and practices in all crematoria in Scotland and will recommend changes to the existing laws, which date back to 1935.
An interim report said commission members agreed that all crematoria should keep a record of every cremation.
They said a mandatory register, that would include the processing of pre-24-week foetuses, should be made law.
First Minister Alex Salmond has promised that the judge's report will lead to legislation to prevent future scandals.
Last year a BBC investigation looked at the policies across Scotland and found ashes were not returned in any of Aberdeen's baby cremations since 2008, while in Inverness 100% were returned.
In correspondence with Aberdeen City Council over three months, it forcefully maintained that "there are no remains" from a baby up to 18 months.
However, it launched an independent audit into its cremation practices as a result of the BBC inquiry.
Glasgow City Council admitted it held the information but refused to provide it. It later apologised to one family.