New SSTA general secretary sacked after three weeks in job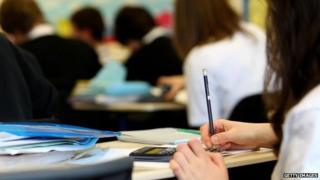 The general secretary of one of Scotland's largest teachers unions has been sacked, only weeks after being appointed.
Sheila Mechan took up the post at the Scottish Secondary Teachers' Association three weeks ago.
A statement from the union confirmed that Ms Mechan had left her post after an "immediate breakdown" in working relationships forced them to act.
Ms Mechan was appointed in March after no other candidate stood against her.
The 55-year-old was born in Glasgow and attended the city's Notre Dame school.
She had previously worked in the publishing industry where she helped launch in-house magazines for Asda and Waitrose before studying for a law degree in 2002.
A spokesman for the SSTA said: "We can confirm that Sheila Mechan's employment as general secretary of the association was terminated today.
"This follows her formal suspension on 19 April, less than two weeks after taking up her position on 7 April.
"This decision is regrettable, but given the immediate breakdown of a significant number of crucial working relationships, the SSTA decided it was in the association's best interests to move quickly to resolve the situation.
"Experienced former deputy secretary Alan McKenzie, who had previously fulfilled the role of acting general secretary on an interim basis, will resume the position whilst the recruitment of a new, permanent general secretary is undertaken."
Ms Mechan said the matter was now in the hands of her lawyers.
She told BBC Scotland: "I was appointed following a nine month search - internal, external and national which involved headhunters for the position of general secretary.
"I was the right person then. I haven't changed in two weeks. That says more about the SSTA than it does about me.
"I just feel sorry for the membership."