New 'Generation' art exhibition to tour Scotland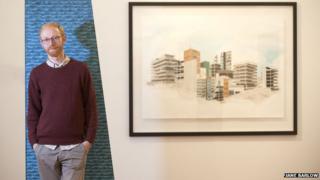 A new touring series of art exhibitions will help mark 25 years of contemporary art in Scotland.
The "Generation" series will see more than 100 artists exhibiting work in 60 venues across the country for the rest of the year.
One of the project's aim is to encourage young people to become involved in the Arts.
The series was launched with an exhibition from artist Toby Paterson at Kirkcaldy Art Galleries.
Iain Munro, chairman of the Generation Partnership, said: "This is a particularly exciting moment for the partners involved in Generation to see the project coming to life.
"With the full programme now in place we are confident that Generation will provide unprecedented opportunities to experience some of the very best contemporary art from Scotland, to celebrate the story of the last 25 years and to look to the future.
He added: "Take a risk, be surprised, be inspired. In particular I'd say to anyone who has never been to see contemporary art before, this is the perfect time to begin."
The project is part of the Glasgow 2014 cultural programme. A full list of the exhibitions and the venues where they are being held can be found on the Generation website.