Fighting back: Building a new life after the Army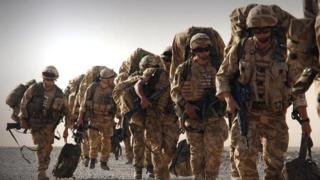 Lee Aitchison lives in a housing complex for military veterans in Airdrie just outside Glasgow. He's a big guy - six foot, 10 inches. I don't realise how tall he is because he answers the door in his wheelchair.
He's not often out of it these days, due to a rare condition brought on by an accident during training. He'll probably be using the chair for the rest of his life. And that is a state of affairs that Lee, his wife, Linda, and their three girls are still getting used to.
He served in Iraq, then in Afghanistan, sometimes at a forward base where his job as an engineer was to keep armoured vehicles on the road - a mix of routine maintenance and repairing damage caused by roadside bombs and other attacks. There are some things about that part of his life he doesn't talk about.
Lee shifts awkwardly from his chair to the settee, to tell me what the journey has been like from life in the army to life on the straight and narrow. It's been hard. Hard for him and hard for Linda and their daughters. Just one hurdle was being turned down initially for some of the disability benefits he's entitled to.
But there has been one hugely positive development. Lee is in the running to take part in the Paralympics in Rio in two years' time as a target shooter.
"If I didn't have shooting as a goal, I think I would still probably most likely be in the dark place that I was before I found sport," he says.
"When I was in the really really dark place in my life, I think if I didn't have Linda and the kids, it's debatable whether or not I think I would still be here.
"I was very very depressed for a long time and it was difficult. But Linda is more stubborn than I am and she kind of dug in her heels and instead of me pulling myself out, she pulled me out."
Linda's advice to anyone in the same position as her family and needing help from government agencies and charities is straightforward: "Don't take no for an answer. Dig your heels in and apply and apply and don't take no for an answer."
Vivid memories
Kenny Chalmers has had longer to get used to life on the outside than Lee, but it doesn't seem to have got any easier. He served in the Scots Guards in Northern Ireland in the 1980s. His memories of the danger and excitement are still vivid.
"It's the adrenalin rush actually, because when you're in Ireland - I don't know if anybody else felt the same - but it was the waiting to get out of the gate and getting out of the gate and there was a build-up of adrenalin. And if you were in a contact, the adrenalin is amazing ... you see people that take drugs to get a high.
"They should get someone to empty a magazine of armalite at them. That is an amazing high. You don't feel it until after, until you're in the shower later or something and then you feel it."
Kenny acknowledges that missing the thrills of active service could be one reason why he's found it hard to settle. Two years after his army career ended he suddenly decided to leave his wife and steady job to return to Northern Ireland.
"I felt that everything was closing in on me and I couldn't, just couldn't be there."
Fractured existence
Since then he's lived in London and Edinburgh and left behind another marriage in Aberdeen. Now he's back in Edinburgh being helped by the charity, Scottish Veterans Residences, and hoping to start work soon as a support worker for young adults.
Kenny's story of a life fractured by time in the Armed Forces is echoed by the experiences of Jocky Stewart. He served with the Royal Scots in the 1970s and 1980s.
After he'd left the regular Army and was still looking for a challenge, he volunteered as an aid worker in Bosnia. That was followed by an assignment delivering food aid to refugees after the Rwandan genocide.
Jocky was not prepared for the scale of the tragedy. He describes military police helping themselves to food meant for refugees. He describes seeing bodies along the side of the road as they took supplies to the camps and coming under fire as they drove away. Constant heavy drinking, he says, was the only way to endure the fear and horror.
"I was married. I got home and my marriage went down hill rapidly after Rwanda because I'd be sitting looking at a TV screen and screaming at it, saying "look at that, look at that" and the TV wasn't even on. That took a lot of counselling."
But Jocky Stewart's lowest point was still to come.
Two years ago, when he was working as a bus driver in the north of England, he hit and killed a pedestrian. Afterwards he spent days alone in his caravan. His darkest memories returned and he came close to killing himself.
Difficult transition
Now Jocky feels the Army could have done more to help.
"I think they should have right from the start, none of these false hopes, like join the Army, it's a great life where you do this, do that, see exciting places," he says. "Yeah, you might see exciting places but they didn't tell you about the places that are not exciting.
"They don't tell you about what to expect when you go into these war-torn countries. It's just a case of yeah let's crack on and get on with it. Then when you come out, it's just like you're thrown onto the slag heap. There you go mate, thanks for your time in the Army, cheerio."
Jocky acknowledges that the treatment of people leaving the Armed Forces now will be different from what happened to him. But it's always going to be a potentially difficult transition.
The Armed Forces programme recruits people to behave in the ways that will make them most effective. They're institutionalised by an all-encompassing organisation which provides everything they need. And the intensity of combat experiences can be addictive and life-changing.
Finding a way to leave all that behind and discover an alternative way of life is bound to be hard.
Those who suffer permanent injuries will never fully recover from what they've been through. Perhaps their best hope is that, like Lee Aitchison, they're able to find a new focus for their life after time in the forces.