The Shetland Dividend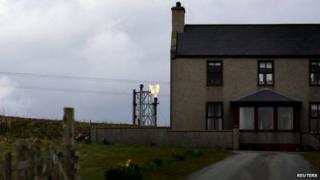 Shetland has no intention of playing its oil card and pushing for its own independence, the council leader has told me.
Gary Robinson says that would be too greedy. It would mean far more wealth than Shetland could possibly use.
Whether in Edinburgh or London, others should be grateful - because Shetland has already had around a third of the UK's offshore oil from waters around it. And with the big new developments to its easy and west, it could expect to have roughly half.
I've been making a BBC Radio Scotland programme looking at "The Shetland Dividend" - about how it got some of the oil wealth for itself, and has put it aside into two funds which have been invested and grown to more than £200m each.
Not greedy, perhaps, but very significant for a population of 22,000. I've been looking at how the islanders are using that wealth, and what leverage its given the islands in the independence debate.
I've heard from Kári á Rógvi, a leading authority on the legal position of the Faroe Islands, and how it gained autonomy from Denmark.
He reckoned the Faroese could have got an even better deal than Shetland. And with the prospect of west of Shetland developments continuing west into Faroese waters, it may yet do so.
Rógvi says the Faroes have gained nationhood because they've thought like a nation, and he doesn't see Shetlanders doing likewise.
And while he says there may have been benefits from being British, he points out the Faroes used to have half of Shetland's population, and a century later, it has around double, at 45,000 people.
Lower tax or state wealth?
I've also heard from Gavin McCrone, who was chief economic adviser at the Scottish Office in the 1970s.
He wrote the much quoted "McCrone memo" - a private briefing for ministers entering office after the February 1974 election, warning them of the potential political as well as economic consequences for Scotland if the scale of the oil bonanza to come.
He told me he wrote another memo in the later stages of the 1970s Labour government, which has not yet come to light.
It advised cabinet ministers of the danger of sterling becoming over-valued because of oil exports (which it then did, becoming the main cause of major industrial closures in the early 1980s), and arguing for an oil fund to be set up with at least some of the revenue.
It was discussed at some length in cabinet, with Scottish Secretary Bruce Millan and energy secretary Tony Benn in favour. But with the economy in dire straits, following the 1976 bailout by the IMF, the Treasury argued an oil fund couldn't be afforded, recalls McCrone. As usual, the Treasury won.
Before long, a new government had taken power, led by Margaret Thatcher, ideologically committed to cutting tax rather than building up state wealth, and to selling off the assets that its Labour predecessors had begun to amass.
Gavin McCrone is not alone in regretting that the oil bonanza pushed sterling to a point where it did immense damage to the rest of the economy, and the revenue stream was then used to pay for unemployment benefits.
Reserve price
On my recent visit to Shetland to make this programme (and another on the islands' businesses), I heard of the astonishment that mainlanders hadn't learned from the extraordinary deal done between the islands council and the oil companies - a negotiation in which the industry majors "grossly under-estimated" the Shetland negotiating team.
A veteran watcher of the relationship, Alastair Cooper, now a councillor with Sullom Voe in his ward, says he can't believe Aberdeen and Aberdeenshire failed to push for similar community benefits, and that no money was put aside by the British government.
That said, the smart, tough negotiations led by Ian Clarke, chief executive of the Shetland Islands Council in the 1970s (long since retired, and now living in Campbeltown) were not so smart as to see beyond 2000, when it was assumed the oil would have run out. So that's when the payments stopped.
I also learned that Sheltand's oil fund hasn't been without its unexpected challenges.
Gary Robinson admitted to me that there was a lack of control over the spending. Capital funds were poured into leisure centres, for instance.
In the far north, Unst has its own swimming pool, for a population of only 500. But there was far too little thought given to the costs of running services.
As a result, the islands council has been cutting deep into its budget. Whereas it was burning through as much as £36m per year, the council's political leader says it can afford only £7m of that without depleting its reserves.
The council was on track to run out of reserves by 2017. So the cuts have gone deep into staffing. A fifth of the payroll has gone.
That's why it's just as well there are plenty jobs linked to the Total and BP developments at Sullom Voe.
Shetland's unemployment rate remains below 1%, and it needs more than 1,000 berths on floatels in Lerwick harbour to provide space for temporary workers, at least until August.
'Resource curse'
For those who say the UK should have done as Norway did, Shetland offers contrasting lessons.
Shetlanders are spending the wealth on themselves, investing in their own industries. They have one of the lowest council tax rates in Scotland.
The Norwegians have taken a different approach, partly because they had to. To have spent their oil wealth investing in their own country would have sent inflation spiralling, in a country that has high costs anyway. Economists call that "the resource curse".
So in Oslo, they've put money aside on condition that it's invested outside Norway. And they have set themselves strict limits on how much can be drawn off it for support of the nation's government spending.
Norwegians have also chosen to retain consumer and income taxes at very high rates, rather than using oil wealth to cut them.
And unlike the UK, they took a decision early on to develop their offshore industry quite slowly. Britain's approach was to get it out the seabed as fast as possible, and that remains the priority.
Norway remains the role model for any country with a resource windfall.
But for all the reproaches that Britain should have done the same, it's been hard to find anyone in Britain in the past four decades arguing for the high taxes, deliberately slowed offshore development and the budgetary self-denial that have been part of the story.