Pilots urge no delay over offshore helicopter safety rules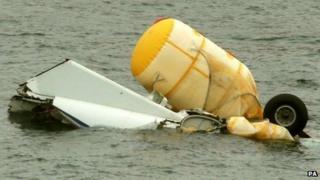 Pilots' union Balpa has written to the Civil Aviation Authority urging it not to back down on safety improvements to helicopters which are flying offshore.
It comes after industry body Oil and Gas UK said the changes risked damaging, rather than enhancing safety.
The new rules have come out of a review of helicopter safety prompted by the deaths of four people when a Super Puma crashed into the sea off Shetland.
They include a restriction on the number of people allowed to fly.
The CAA said it would only reconsider its recommendations if it saw a safety case based on evidence.
From June, all passengers will also need to have a seat adjacent to an emergency exit and the aircraft will not be allowed to fly offshore in severe sea conditions.
Oil and Gas UK have said the new rules could actually damage safety and may jeopardise North Sea maintenance and productivity.
It said limiting the number of passengers per flight would mean more flights, putting additional pressure on pilots and ground crews.
The organisation also believes that safety critical maintenance planned for offshore installations across the summer would be put in jeopardy by the "ambitious" June deadline.
However, Balpa now says the CAA should challenge "backsliding" by the industry and stick to its timetable.
Jim McAuslan, Balpa's general secretary, said: "We have today written to the chief executive of the CAA, Andrew Haines, urging him to ensure the CAA review board's recommendations contained in its recent review are fully implemented and to ask him to challenge backsliding by the oil and gas industry.
"We have also written to Scotland's first minister pressing him not to be held hostage by the large multi-national companies that have a history of setting the agenda."
Mr McAuslan will be speaking at the Scottish Trades Union Congress in Dundee on Monday, where there will be a motion on helicopter safety by the Unite union.
The recommendations came after an inquiry was set up by the CAA and its Norwegian and European counterparts, in the wake of a fatal Super Puma crash last year.
Four people died last August when a CHC-operated aircraft crashed off Shetland.
Sarah Darnley, 45, of Elgin; Gary McCrossan, 59, from Inverness; Duncan Munro, 46, from Bishop Auckland; and George Allison, 57, from Winchester, lost their lives in the crash. Fourteen other people were rescued.
It was the fifth serious incident involving an offshore helicopter in the UK sector since 2009.