SNP conference: Coming of age in historic vote year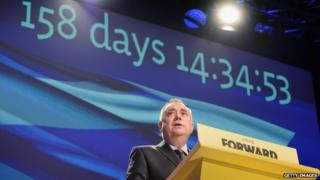 The SNP is 80-years-old. John Swinney is rather younger but, nevertheless, today is his birthday and conference delegates sprung a surprise upon him as he prepared to speak - they sang Happy Birthday.
An abashed Mr Swinney vowed gentle revenge on the chair, Derek Mackay, who had orchestrated the ambush.
Later there was folk singing and a satirical drama on stage. But it was not all cakes and ale at the SNP conference, despite the structured jollity and the genuine version among delegates. There was a deeply serious strategic purpose.
Delegates in an SNP audience love nothing more than Braveheart rhetoric, lampooning and lambasting their rivals.
Alex Salmond gave them none of that - or very little. Instead, he exhorted them to go back to their constituencies and prepare for referendum. His talk was all of diversity, of inclusion, of consensus.
That is, of course, because he does not need to convince the delegates in the hall. They are already voting Yes. He needs to reach out to voters across Scotland. Among them, women seem notably reluctant, perhaps risk averse, perhaps simply risk aware.
So a direct pitch to the female vote. He promoted two more women to his Cabinet, he announced that future Scottish Cabinets would be at least 40% female. (That in the week that David Cameron was obliged to sack a woman from his Cabinet.) And he emphasised the Scottish government offer to enhance childcare post independence.
Then the pitch to Labour. Firstly, he stressed that a vote for independence was not a vote for the SNP, not a vote for him. This designed to tackle a concern which is still arising on the doorsteps. Independence, he said, might result in a Scottish Labour government.
But consensus goes only so far. This is strategic inclusion, not the universal kind.
Mr Salmond said - again pitching to Labour voters - that Scotland would be rid of Tory rule. Strictly speaking, of course, people in Scotland might choose to vote Tory after independence.
Mr Salmond's point was that, if Scotland's current voting pattern is replicated, then a government of the right would be highly unlikely.