Call for details on Scottish university principal pay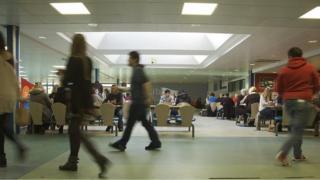 Universities are being urged to give more information about the way their principals are paid, as an increasingly bitter pay dispute continues.
The University and College Union has published a report on what it calls the "murky world" of senior academic pay.
It clams just six of Scotland's 15 universities were prepared to release the minutes of the committees which set the principal's pay.
Universities Scotland said most principals got a below inflation rise.
It added that there was greater transparency about senior pay.
Staff pay 'fall'
The union says that principals' salaries and benefits rose by an average of 5.5% between 2011-12 and 2012-13 across the UK.
Across Britain, the average principal or vice-chancellor's pay was £254,692, once pension payments are included.
Members of the University and College Union across the UK have been taking part in industrial action since October.
The union says university staff have seen their pay fall by 13% in real-terms since 2009.
Pay talks are due to take place next week but a marking boycott is scheduled to start on 28 April if the dispute is not resolved.
'Murky world'
UCU Scotland official Mary Senior said: "Millions of pounds of public money are spent on principals' salaries, yet their pay rise is decided behind closed doors with no accountability.
"The time has come for the lid to be lifted on the hitherto murky world of remuneration committees and senior pay in our universities. Students and the taxpayer have a right to know why so much of their money is going on paying principals.
"All principals in Scotland earned more than the first minister last year, while staff have been on strike six times this year in protest at a measly 1% pay offer. We believe there is a strong and legitimate public interest to justify these growing six-figure salaries."
The union said just two Scottish universities provided details of their principal's pay rise for their report.
The University of Glasgow said its principal had provided "excellent leadership" and awarded him a 2% pay rise, while the University of Stirling endorsed a report of "strong performance by the university under the principal's leadership". He was awarded a 5% rise.
'Below inflation'
The body that represents the collective interests of Scotland's universities said most principals had received a pay rise below inflation.
A Universities Scotland spokesperson said: "Nine of 16 Scottish principals for which data are available received a below-inflation increase in pay of 1.5% or less last year.
"Two principals took no increase in pay at all. The median salary increase taken by principals in Scotland was 4.5%.
"As the pay deal for staff of 1% is offered on top of the 3% incremental increase that most academic staff receive these figures are not out of kilter with each other."
The spokesperson added that the new code of governance specifies that university courts, comprising staff and students, are consulted in the appraisal of principals and set the terms of remuneration committees.