Additional £2m lottery funding for local youth projects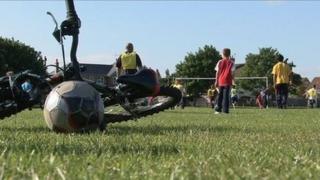 Local youth projects across Scotland have been given a £2m boost from the Big Lottery Fund.
The grants are part of the fund's Investing in Communities scheme, which aims to establish and promote local community projects.
As well as youth projects there are also grants for a wider range of community groups across the country.
The additional projects given grants include welfare advice groups, carers and mental health support agencies.
Social enterprise
One of the major grants given was an award of £1,115,307 to the Inspired Community Enterprise Trust in Dumfries and Galloway.
The trust is a social enterprise which aims to provide work experience for young people finding it hard to get jobs.
The investment will be used by the group to provide training schemes for people aged between 16 and 26 who have learning disabilities or special needs.
Training and workshops will be held in a community cafe at a converted church called The Usual Place.
Trust director Linda Whitelaw said: "We are over the moon that our Big Lottery Fund application has been successful. Without this substantial funding award our dream of making this community asset a reality would be difficult, if not impossible."
Another youth scheme to benefit from a grant was Angus Council's Just Play project. The initiative aims to help young children from vulnerable families with a history of offending.
Positive play experiences have been shown to improve children's development and promote secure attachments, which can help to break the cycle of offending, and improve the future for very young children.
The project was awarded a grant of £485,622 to fund family play and drop-in sessions at special venues.
'Innovative intervention'
Angus Council's vice convener of children and learning Lynne Devine said: "Just Play is an excellent example of key children's services partners collaborating to create, deliver and develop an innovative intervention."
Big Lottery Fund Scotland chairwoman Maureen McGinn said: "These awards will make a huge difference to the lives of people across Scotland but, in particular, to many vulnerable children and young people."
She added: "The projects all share the common aim of helping young people to live healthier and happier lives, so I am delighted to announce today's awards which will help achieve this goal."
Elsewhere in Scotland a further six projects are receiving grants totalling £2,732,521.
This funding will help address different issues including a shopping, delivery and odd job service for older people in South Kintyre, and welfare advice and support for carers living in Dundee.