Scottish spending on pavement repairs falls sharply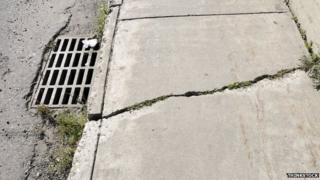 Spending on pavement maintenance in Scotland has fallen sharply, according to figures obtained under freedom of information legislation.
Local authorities cut investment in footways from £19.5m in 2009 to £15.5m in 2013, Living Streets Scotland found.
That represented a drop of 20.5% and came despite total spending on highway and footway maintenance increasing from £137m to £150m over the same period.
Living Streets Scotland warned that the cuts represented a false economy.
Health fees
The charity's head, Keith Irving, told BBC Scotland: "Physical inactivity costs us all money so if we can invest in the walking environment, then that will save our health boards and other services money in the long term.
"What we also find is that trip hazards also cost extra money in compensation payments and in the health fees to make injured people better again.
"We would like to see investment in footways which would cut compensation bills and make sure we are all safe in our own communities."
Living Streets Scotland said older people and disabled people were at greatest risk from uneven surfaces, broken paving stones and badly designed pedestrian crossings.
Michael Harrison, of the Scottish Accessible Transport Alliance, has been a wheelchair user for eight years.
He has echoed the calls for increased investment in pavement maintenance.
'Real barrier'
Mr Harrison said: "Most of the time, things are OK. Sometimes they're good and sometimes they're bad. The problem is, it's so inconsistent, you can never quite tell what you're going to come across.
"Potholes and kerbs which are not dropped adequately can present a real barrier."
Local authorities have been lobbying utility companies, which often dig up roads and pavements, to meet an increased share of the cost of repairs.
Councillor Stephen Hagan, of the Convention of Scottish Local Authorities (Cosla), said: "There is no doubt councils have been actively addressing the general condition of the entire highway network across Scotland, despite reduced budgets over the last few years.
"Councils recognise the importance of the local highway and footway network to the lives of local communities and businesses and will continue to invest in them as much as our budget allows in forthcoming years."