Margo MacDonald: 'Scotland is the poorer for her passing'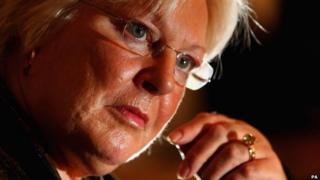 To drop into Margo Macdonald's Holyrood office, as I frequently did, was an experience. You might become engaged in a hugely intellectual debate about independence - or some other issue that had grabbed Margo's attention.
Alternatively, you might be assailed with the latest gossip or the future of the Hibees or, indeed, brought up to speed with her latest purchase on a shopping channel.
Deeply serious, occasionally coquettish. A political partisan who chafed within party constraints. But, above all, charismatic, hugely popular.
Few politicians achieve genuine personal popularity - beyond that loaned to them by the party machine. Fewer still are recognised solely by their first name. Margo was.
But, as is common with such politicians, she was frequently to be found out of step with the party leadership.
'Wise advice'
Feisty and energetic, she was the SNP's deputy leader during the Nationalist honeymoon of the 1970s. But political divorce followed. She quit the party in the internal conflict which followed defeat in 1979.
If I may be allowed a personal reminiscence - and nobody is going to stop me - I well remember interviewing her at the Dundee conference of the party as the '79 Group was getting into its stride, advocating a shift to the Left for the SNP.
At the time, she was a huge figure in the party and in the wider independence movement. I was a tyro reporter on the P&J. Despite that gap in standing, she put off time for me: time that she undoubtedly did not have, given the competition for her attention.
Her political passion was gigantic. It was a passion, though, which never veered remotely into rancour or intolerance. Intelligent, driven, witty, passionate. Just Margo.
Her humour was notably droll. However, she was less than amused in 2003 when she was ranked down the SNP list for the Scottish Parliamentary election. Was it instigated by the leadership? Was it local politics as usual, driven by its customary blend of spite and petty envy?
Either way, she quit the SNP, again, opting to stand as an independent. As a party of one, perhaps the only party which could hold her - entering her campaign launch event to the strains of "Only the Lonely".
No party machine. No party support. Few resources. Only her loyal supporters and her own integrity. The outcome? She won by the length of a Scots Mile, repeating this remarkable success at subsequent elections.
Every issue she adopted - and there were quite a few of them - she pursued with vigour. Only last week, she was visited by the first minister and apparently offered "wise advice" on the conduct of the referendum campaign.
My sympathy to her family and close friends. Scotland is tonight the poorer for her passing.