Scottish officers convicted of on-duty data offences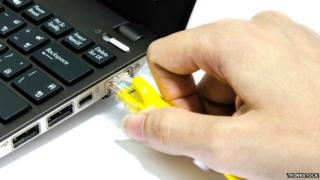 An increasing number of Scottish police officers are being investigated for breaching data protection laws whilst on duty, BBC Scotland has learned.
Six were convicted by the courts in 2013, while inquiries are taking place into 55 other cases.
Labour's Justice spokesman said it would be a "major concern" if information were passed to criminals.
Police Scotland said it treated any breach of data protection seriously.
The figures obtained by BBC Scotland under Freedom of Information (FoI) legislation reveal three of the convicted officers remain with the force while misconduct proceedings are under way.
Another officer, who was found guilty of six breaches of the Data Protection Act (DPA) relating to the accessing of personal data, was also convicted of attempting to pervert the course of justice and resigned prior to the completion of misconduct proceedings.
A total of 22 officers have been convicted of breaches of the DPA while on duty since 2008.
The disclosure of the convictions for DPA offences came as Police Scotland suspended four officers for alleged data breaches and placed 51 others on restricted duties, amid concerns criminal groups are attempting to access confidential information via officers.
In total, more than 100 Police Scotland officers are on restricted duties while 11 are currently suspended and under investigation for alleged offences which include serious crimes such as stalking, assault and rape.
'Criminal associate'
One officer reported to the Scottish Police Authority (SPA), the police watchdog, has been under investigation for more than a year for allegedly breaching the DPA and being a "criminal associate".
Graeme Pearson, Labour's Justice spokesman and a former deputy chief constable, told BBC Scotland: "I would want to know why these data protection contraventions occurred and where was the information going to.
"If it was passed on to criminals then that would be a major concern."
Ch Supt Ellie Mitchell, of Police Scotland's Professional Standards Department, said: "Police Scotland treats any alleged breach of data protection seriously.
"All appropriate steps are taken against anyone committing breaches. Ensuring the integrity of the information held by Police Scotland is a priority and we regularly carry out audits which allow us to make sure policies are being adhered to.
"Training is provided to all officers and staff around data protection and the compliant use of systems."
The figures released under FoI also reveal more than 70 officers in Scotland have been convicted of committing offences while on duty since 2008.
Dozens of officers have come before the courts for traffic and other minor offences, while others have been convicted of more serious crimes.
Six officers have convictions for assault and five for attempting to pervert the course of justice, while others have convictions for crimes including corrupt practice, theft and fraud.
In all cases the officers were on duty at the time of the offence.
Pension maintained
From a total of 77 officers, more than half continue to serve with Police Scotland, though in most serious cases the officer concerned is no longer employed by the force.
On 14 occasions officers who had been convicted of an offence committed while on duty resigned before the conclusion of the internal disciplinary process, meaning that they still receive a pension.
A further 10 were required to resign following their conviction - these officers will also continue to receive a police pension - and two officers were dismissed after convictions for an assault and theft respectively.
The figures cover both Scotland's eight former police forces and the new Police Scotland force formed in April 2013.
The former Strathclyde Police force has the highest number of convicted officers with at least 38 convictions since 2008, at least 23 of whom continue to serve with Police Scotland.
Ch Supt Mitchell said: "The overwhelming majority of our police officers and staff act with integrity, displaying high standards of behaviour and conduct themselves in an appropriate and professional manner at all times.
"Unfortunately, there are rare occasions when those standards fall below that which the general public and the organisation expect.
"The data obtained by the Freedom of Information request relates to criminal cases dealt with from 2008 and obviously pre-dates Police Scotland. Our internal disciplinary procedures are robust and with the introduction of the new conduct and performance regulations are fit for today's modern service.
"Officers who are dismissed or required to resign as a result of misconduct proceedings only receive a pension once they reach Police pensionable age and even then this is not a full pension and only equates to the contributions paid prior to their dismissal."