West Harris and Glasgow community projects win £2m funding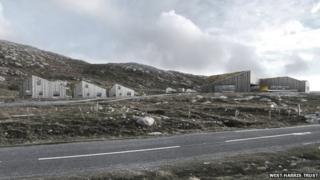 Two community projects in Scotland will benefit from new grants from the Big Lottery Fund.
Over £1m has been awarded to each of two community projects, in West Harris in the Western Isles and Barmulloch in Glasgow.
Both projects will use the grants to replace existing facilities to try and encourage area regeneration.
The Big Lottery Fund is responsible for giving out 40% of the money raised for good causes by the National Lottery.
The fund has awarded £1,090,247 to the West Harris Trust, which will be used to build a new community centre at Rubha Romagaidh, Horgabost.
An estimated 20,000 visitors are expected to visit the island and the new site will include a marquee on an outdoor deck, three campervan stances, community poly-tunnels and a children's play area.
'Wonderful news'
West Harris Trust Chairman Murdo Mackay welcomed the news and said: "This extremely generous grant from the Big Lottery Fund completes the funding package for this ambitious project.
"It is a major milestone in the Trust's work and the project will play a key role in retaining and attracting new people and businesses to live and work in West Harris."
Barmulloch Community Development Company will use its grant of £1,075,000 to build a new, multi-purpose community facility to replace the existing Tenants Hall.
The funding will allow for the demolition of the existing building and the construction of a new facility which will include a hall, recording studio and offices.
'Worked hard'
The new building will host several organisations which aim to improve health, employment and recreation throughout the area.
Jim Hope, Barmulloch Community Development officer, said: "This is wonderful news for the people of Barmulloch and surrounding areas."
"The volunteer board has worked long and hard to replace our existing hall, built by local voluntary labour in 1954, and we are indebted to Glasgow City Council, Glasgow Housing Agency and Big Lottery Fund Scotland for their encouragement and assistance."
The Big Lottery Fund Scotland's Growing Community Assets programme focuses on helping communities build new projects to help improve.