Scottish firms hit the acquisition trail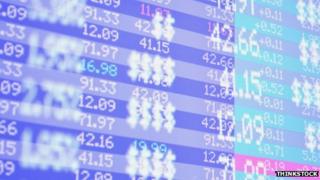 You'd be forgiven for thinking corporate Scotland has suddenly gone acquisition daft to mark the first of April.
Wood Group has picked up a small engineering consultancy in the Canadian pipeline business.
MB Aerospace, an unlisted Motherwell company has bought Norbert, a complementary company with facilities in Poland and Michigan.
That takes it to 900 employees, and expands the range of aerospace products it can service.
Weir Group, in Glasgow, has announced today its made an unsolicited bid for Metso, a big Finnish rival in the fracking and mining equipment business. If successful with the all-share offer, it would leave one of the great remaining names of Scottish engineering listed in London and Helsinki.
Giant acquisition
But the giant acquisition that's been completed today is at Aberdeen Asset Management.
Chief executive Martin Gilbert has confirmed the £550m takeover of Scottish Widows Investment Partnership has gone through. That shrinks Lloyds Banking Group somewhat more, as part of its recovery programme.
It leaves the newly-joined Aberdeen company with assets under management (backdated to 28 February) of £324.5bn. That's right - nearly a third of a trillion pounds.
It's nowhere close to the giant funds run out of New York, such as BlackRock, with more than two trillion pounds under management. But it puts Aberdeen into the European superleague.
Edgy markets
A key test for the enlarged Aberdeen operation is what it can make of the strategic partnership deal the deal involves with Lloyds Banking Group.
The high street giant no longer has an asset managing arm, so it can promote Aberdeen's products to its customers, across Lloyds, Halifax and Bank of Scotland.
However, cross-selling of financial products is being constrained by regulations on the way in which banks sell to customers, facing the regulatory requirement that they remove incentives from frontline staff to sell additional products.
That leaves some uncertainty how much Aberdeen can get out of this strategic partnership. But given Lloyds' reach, it can't do the Aberdeen team much harm.
'Significant cuts'
Unfortunately for Martin Gilbert, the consolidation of two big Scottish funds comes as the Aberdeen part of it has to report a significant fall in its Asia and emerging markets.
They've done well from that expertise through the downturn, but these more edgy markets are not looking such a clever place to be these days.
That's why, along with a great leap forward in scale, there are "significant" cuts in cost on the way for the Aberdeen operation. And that's in addition to the synergies - so far unspecified - that are expected to come out of the merger with SWIP.
The word synergies has cropped up in the Weir bid for Metso.
These series of acquisitions show that Scottish firms are ambitious for growth, which has to be good. But it's not always going to be great news for their staff.