Scottish centre aims to reduce youth homelessness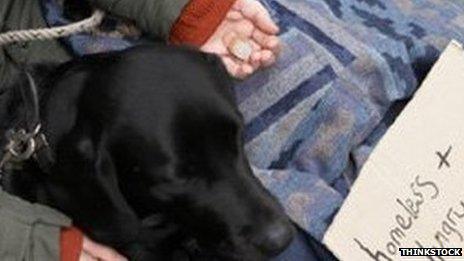 A new Scotland-wide resource centre to stop family arguments and youth homelessness has been announced.
The Scottish Centre for Conflict Resolution (SCCR) will provide families with support and advice on how to solve any conflicts.
Experts say mediation services are the best way to stop young people leaving the family home and becoming homeless.
The SCCR has been established by Edinburgh's Cyrenians charity and is funded by the Scottish government.
Figures show nearly 6,000 young people become homeless in Scotland each year because the relationship between them and their family breaks down.
Research also shows 61% of young people said arguments happen at home at least once a week, and 25% of youngsters think about leaving home at least monthly.
A major research project undertaken by Edinburgh's Cyrenians charity suggested that although mediation is the most effective way in dealing with these issues, families feel that they do not know how to deal with the arguments which can lead to young people walking out of the family home.
As a result of these findings, the new initiative will be open to families across Scotland and will be promoted through a number of campaigns.
The SCCR has received the support of Minister for Children and Young People Aileen Campbell and Tam Baillie, Scotland's Commissioner for Children and Young People.
MSP Aileen Campbell believed the centre could help young people avoid "the nightmare of homelessness".
She said: "We cannot underestimate the impact an initiative like the new Scottish Centre for Conflict Resolution can have in reducing family conflict - and in helping young people avoid homelessness because of family breakdown.
"Early intervention is critical in helping keep families together, supporting young people and their loved ones and ultimately improving their life chances."
The new centre will also gather the views of young people, parents, families and carers, survey front-line staff, and work with local authorities and voluntary organisations across Scotland.
Tam Baillie, Scotland's commissioner for children and young people, also backed the new centre.
"I spent many years working with homeless young people. I know from experience the difficulties for young people once they have entered the homeless system and the value of preventing it happening in the first place," he said.
"It is widely accepted that prevention is a more cost effective way to deliver services, and for young people it could also be a way to save the grief and heartache that comes from starting off their adult life in a position of being homeless."
Related Internet Links
The BBC is not responsible for the content of external sites.