Scottish independence: Minister says 'Yes' vote possible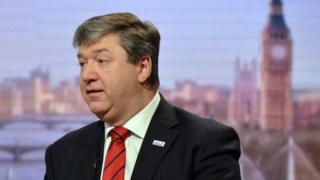 It is "absolutely the case" that the Yes campaign could win the Scottish independence referendum, a UK minister has said.
Scottish Secretary Alistair Carmichael has confirmed comments he made in an interview with the Observer newspaper.
He said a Yes vote was "not impossible" and that the No campaign needed to show more "hunger".
First Minister Alex Salmond said the Yes campaign has "the wind at its back" at the moment.
Mr Carmichael's latest intervention in the referendum debate came after a row over currency sharing in the event of a "Yes" vote.
Speaking on the BBC's Sunday Politics show, he said: "What I said was it was not impossible that the Nationalists could win, and that is absolutely the case.
"The biggest danger for the UK camp in this whole argument is that people look at the polls, they show us with a healthy lead consistently and as a consequence they think that it is not going to happen, it cannot happen.
"Well I have got to tell everybody it could - not least because the Nationalists have an enormous advantage in terms of the amount of money they have at their disposal in order to buy momentum. They are out there, going to advertise in cinemas, on street hoardings, they will be advertising at football matches on social media right across the way."
He added: "They have an unprecedented war chest to pour into this campaign."
In an interview with the Observer newspaper, the Scottish secretary had urged the pro-Union camp to look at the approach of their opponents.
He also said he wanted to hear a "wider range of Labour voices" than just that of the former chancellor Alistair Darling, who is head of the Better Together campaign.
On Saturday, Treasury ministers George Osborne and Danny Alexander dismissed claims, reported in the Guardian newspaper, by an unnamed UK minister that an independent Scotland could keep the pound.
'Campaign tactic'
They said: "There will not be a currency union in the event of independence. The only way to keep the UK pound is to stay in the UK. Walking out of the UK means walking out of the UK pound."
Speaking on the BBC's Sunday Politics Scotland, Scotland's first minister said the story "exposed" the argument that leaving the UK meant leaving the pound, as a "campaign tactic".
Mr Salmond added: "It is a new found tactic, a merry wheeze, dreamt up, as we know from the Guardian report, by Alistair Darling, and Andrew Dunlop persuaded the Treasury to do it.
"Now it's been seen through. The bluff has been called and the No campaign will have to take the political consequences which will be severe."
Voters in Scotland will be asked the yes/no question: "Should Scotland be an independent country?" when the independence referendum is held on 18 September.