Less litter on Scottish beaches, marine conservation study finds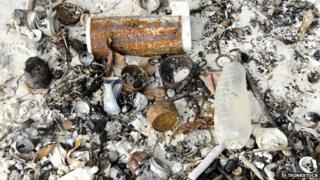 There has been a slight drop in the quantity of rubbish found on Scottish beaches, a survey has found.
Volunteers cleared more than 36,000 pieces of rubbish in just one day from 45 Scottish beaches.
But a report from the Marine Conservation Society (MCS) said there is still a "shocking" amount of litter on beaches.
Some of the items found on Scottish beaches included a set of rubber teeth, high heels and a bathplug.
Contrasting figures
The figures were obtained during the 20th annual "Beachwatch Big Weekend" last September where volunteers collected 36,379 pieces of litter from 45 Scottish beaches in one day.
The drop in the number of items found on Scottish beaches contrasted with UK figures which showed a slight increase.
However, sewage-related debris on Scottish beaches was higher than the UK average, as was the amount of fly-tipped litter.
Volunteers picked up an average of 1,963 pieces of litter per kilometre on Scottish beaches, less than the overall UK average of 2,309.
MCS Scotland programme manager Calum Duncan praised the drop in litter but stressed that more work still had to be done.
He said: "Despite a drop in litter amounts in 2013, this is still a shocking tide of litter which is threatening the safety of beach visitors both human and animal.
"After 20 years of campaigning it's disheartening that in 2013, in the UK overall, we are seeing worse litter levels than ever.
"In Scotland, amongst the weird things we found were some wartime scaffolding poles, a toilet flush handle, some ladies high heels - shoes not attached, a Spanish fish box, rubber teeth and a bathplug."
He added: "We are partners in the Clean Up Scotland initiative this year because with Scotland hosting the Commonwealth Games and the Ryder Cup we need to make sure visitors see the best and cleanest of what we have to offer."
The MCS has planned another big beach clean at the end of April and people interested in taking part can register their interest on the organisation's website.