Scaling back the many-headed Hydro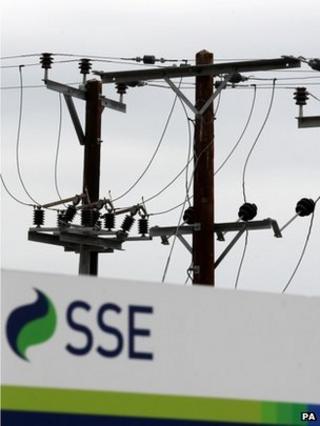 SSE is today setting out a big re-structure, and it sounds several alarming notes for the renewable energy industry.
Clearly, it is responding to public, regulatory and political pressure to bear down on prices, with its freeze until the start of 2016.
That comes with its response to Ed Miliband's initiative for a temporary freeze on bills.
While the energy firms do not declare their hedging positions, it suggests SSE must be well protected against future fluctuations, in a market that is wary of what could happen if tensions intensify between Russia and Europe.
The restructure of the company, which has its headquarters in Perth and trades in the north of Scotland as Scottish Hydro, also bears the stamp of Alistair Phillips-Davies.
He took over from Iain Marchant as chief executive in July last year. Phillips-Davies was an internal promotion, but today's announcement is a sign of discontinuity with the Marchant regime.
The former boss wanted his company to have a role across all the new technologies. Given the company's heritage, growing out of Scotland's hydro power, SSE was already comfortable with renewable energy.
Its north of Scotland footprint includes ownership and management of the grid in the north. That put it in a key position for meeting all those ambitious political targets for going green.
Phillips-Davies is doing less of the ambitious visionary stuff. His vision appears to be a scaling back to a much simplified company.
He is pulling SSE out of biomass, and the Forth Energy plans to build big plants at Scottish ports. He is scaling back on wind and wave too, including four test sites in Orkney. Gone too are almost all those big plans for offshore wind farms.
The chief executive wants to reduce investment. That, in turn, is aligned with a tougher time for profitability.
The signals are not good for the renewables industry. Only last week, Scottish Renewables chief executive Niall Stuart was telling its conference that he has gone from optimism to much less certainty in only nine months or so.
The offshore wind business is far from getting the momentum it needs. Wave and tidal technologies are still quite a few years from the market, and the appetite for investing in them has been diminishing. E.On and RWE were going cold on them last year, before SSE did.
Without the big energy firms pulling back on their commitment, the financial markets do not yet seem ready to become big investors. And government has shown on carbon capture that it is very cautious.
The industry awaits signals from government on price floors and on grid connection charges.
And it is frustrated that the costs of putting turbines out into hostile waters, and then servicing them, have not come down nearly as fast as anticipated.
Hull has been awarded Siemens' new wind turbine factory, which will put the wind in the sails of eastern England.
But we are still waiting for Samsung, Mitsubishi, Gamesa and Areva (the latter two having joined forces on offshore wind) to cut turf on their plans for Scottish manufacturing.