Scotland's attractions prove popular with the public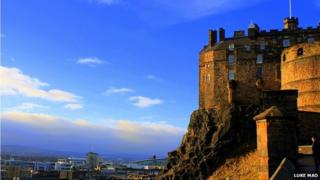 More than 32 million visits were made to attractions in Scotland last year, figures have revealed.
A report from the Association of Scottish Visitor Attractions (ASVA) recorded visitor numbers from over 250 of the organisation's member sites.
The figures showed a rise of over 225,000 from last year's numbers.
Heritage, sports and outdoor activity sites proved to be amongst the most popular with the public.
Edinburgh continued to dominate the marketplace, with 11 of the top 20 attractions found in the city, including the most popular free and paid entry venues.
The capital's National Museum of Scotland proved to be the most visited attraction overall for the third year running with 1,768,090 visitors while Edinburgh Castle was the most popular paid entry attraction with 1,420,027 visitors.
However, attractions in the north and south of Scotland recorded the biggest increases in numbers, with visits up by over 7% in both regions.
Whisky tourism continued to prove a strong draw with visitors to Scotland, with the majority of whisky-based attractions reporting a rise in their visit numbers.
The Scotch Whisky Experience in Edinburgh experienced its highest ever visitor numbers, 11.5% up on the previous year.
Record exhibitions
Special art exhibitions helped bring about a large increase in visitor numbers to the country's museums and art galleries.
Glasgow's Kelvingrove Art Gallery hosted the most popular special exhibition ever with over 123,000 people visiting the museum's Jack Vettriano retrospective over its 23-week run.
The Brick City exhibition at Paisley Museum, a display of the world's most iconic buildings and landmarks by Lego artist Warren Elsmore, was so successful that it was extended by two weeks to meet demand, helping to boost visitor figures by almost 70% for the year.
Two jousting weekends at Linlithgow Palace boosted numbers by almost 20%, while at the Iona Abbey visitor figures increased by 6%
Edinburgh Zoo bucked the trend of other giant panda zoos the year after their pair arrived, recording only a small 6% decrease in 2013.
Despite this fall in visitors, numbers still remained 40% higher than "pre-panda" figures.
David O'Neill, chairman of ASVA said: "Looking forward, we are confident that 2014 will be a bumper year for the visitor attractions sector in Scotland as we reap the benefits from Homecoming 2014 and major events including the Commonwealth Games and Ryder Cup, as well as the opening of exciting new attractions such as the Bannockburn Visitor Centre."