Access problems on Bank of Scotland website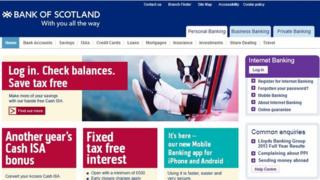 Bank of Scotland customers have been having problems accessing their accounts online, the bank has said.
A spokesman for the bank said its website was not down but a "small number" of customers were having problems accessing their accounts.
The problems have affected customers for about 24 hours but the bank could not say when they would be fixed.
The spokesman said branch, telephone banking, ATM services and debit card transactions were not affected.
The bank, which is part of the Lloyds Banking Group, advised that customers who were affected should contact their bank either by telephone or using the twitter name @AskBankofScot.