Police reorganisation has 'already led to £72m savings'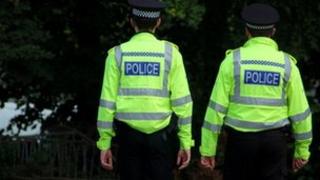 Police reorganisation has already resulted in savings of more than £72m, official figures have revealed.
In a report to the Scottish Police Authority (SPA) Police Scotland said it was now likely to achieve its target of saving £1.1bn two years early.
The reorganisation in April 2013, saw eight regional forces merged into Police Scotland.
Police numbers have remained stable, but unions say civilian staff have been reduced so far by about 800.
It said that is one in seven of the previous total.
The reorganisation meant eight chief constables became one, and eight HR and finance departments were to be similarly trimmed.
Efficiencies
The Scottish government set a target of saving £1.1bn by 2026 - which was to be achieved without reducing the number of police officers.
This meant concentrating cuts on efficiencies, and reducing the number of civilian staff, whilst maintaining the level of operational policing.
It is cutting the number of control rooms from 11 to five, with Dumfries closing in April.
Up to 300 civilian control room staff could lose their jobs.
The SPA will hear at its meeting on 26 March that in the current financial year there has been an overall reduction of 340 full-time employees.
But its Finance Management Report also says 667 applications for voluntary redundancy have been been approved, of which 86% have been accepted.
Most will have left by the end of the financial year 2013/14.
Deputy Chief Constable Neil Richardson said the reorganisation had been challenging.
He said: "Bringing together 10 organisations within a challenging financial context has been one of the biggest changes to Scottish policing.
"Our aim was to minimise the impact of the transition to a single policing service on operational policing and we achieved that, as well as delivering early benefits of reform.
"Much has been achieved in this first year with improved access to specialist policing support and local policing further strengthened.
He said savings of £64m had been ordered for the financial year 2014/15 - but most of the cuts had already been identified.
Tipping point
Vic Emery, the chairman of SPA, said: "Police services have continued to respond to local needs, crime in Scotland has continued its long-term downward trend, and policing costs tens of millions of pounds less to run than it did a year ago."
He said the financial strategy to be discussed on May 26 represented "a clear tipping point" on the journey from merger to long-lasting and far-reaching reform.
Unison Scotland, which represents many of the civilian police workers has called a strike ballot following concerns over control room closures and changes to redundancy terms.
George McIrvine, secretary of Unison police staff Scotland branch, said trust between the trade union and Police Scotland had broken down.
"Our members across Scotland are telling us loud and clear that enough is enough," he said.
"Staff are stressed, over worked and under pressure.
"We will ballot them to gauge their strength of feeling on potential strike action. The employer have given us no choice."