Police Scotland staff to hold a ballot on strike action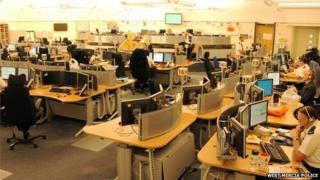 Police staff in Scotland are to ballot on strike action after relations between the force and trade unions broke down.
Unison Scotland urged members to vote in favour of industrial action due to the closure of regional command centres and restrictions on annual leave.
Union leaders said trust between them and the force had broken down.
The Scottish Police Authority called for further dialogue with workers to avoid strike action taking place.
Four command and control centres which field 999 calls across the country are facing closure - the first, in Dumfries, is scheduled to shut by the end of May, with the loss of 34 jobs.
Unison has also voiced concern about the control rooms in Aberdeen, Stirling and Glenrothes.
And according to the union, more than 1,700 police staff across the country have had their annual leave restricted due to the Commonwealth Games, and police staff have also had their redundancy terms reduced.
George McIrvine, secretary of the union's police staff Scotland branch said: "Our members across Scotland are telling us loud and clear that enough is enough.
"Staff are stressed, over worked and under pressure. We will ballot them to gauge their strength of feeling on potential strike action.
"The employer have given us no choice. They are not providing the unions with answers to reasonable questions which we have consistently raised for many months now."
'Not listening'
Unison regional officer Gerry Crawley added: "This whole episode has made police staff worried, frightened and angry. The uncertainty of what's next is demoralising.
"The Scottish Police Authority and Police Scotland are simply not listening to us. They need to realise that Unison members are not prepared to take the brunt of these brutal cuts any longer."
A spokesman for the Scottish Police Authority spokesman said he was "disappointed" to hear about the ballot.
He added: "We hope that opportunities for further dialogue can be constructed which will allow union concerns to be addressed without the need for escalation."
John Gillies, Director of People and Development at Police Scotland, said: "We continue to be committed to discussion and engagement with the trade unions.
"There are a number of issues on the table currently and both sides have a common understanding of what the key areas are.
"From a management perspective, these are being considered, in conjunction with the Scottish Police Authority, and we are hopeful of a positive outcome and resolution following further engagement with union representatives."